A Victoria University student who won a competition to name the new Footscray railway station footbridge said recognising the achievements of local Aboriginal people was long overdue.
Anthony Balla, husband of VU Lecturer Paola Balla, said he was "really chuffed'' to know the footbridge would be named in honour of local Indigenous leader and activist William Cooper.
Mr Balla, who studied the Kyinandoo course at VU, said Cooper was an obvious choice for Footscray's newest public structure.
Born in the 1860s, Cooper was a descendant of the Yorta Yorta people and lived in Footscray during the mid to late 1930s. Throughout his life he pursued justice for Indigenous Australians, helping organise a National Day of Mourning. He also led a delegation to protest attacks on Jews in Germany in 1938.
"He did incredible things in the Footscray area and he was an absolutely outstanding man,'' Mr Balla said.
"I was pretty clear straight away with what I thought the bridge should be called. There are lots of Aboriginal people who have done amazing things for their community and the movement to recognise them is gaining more momentum. This is just icing on the cake.''
The name of the footbridge was announced by Planning Minister Justin Madden at a ceremony on 20 May. Mr Balla and fellow winner Christine Newman, who also nominated William Cooper in the competition, each won a MacBook Pro.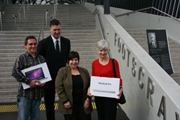 Footscray Railway Station naming
Contact us