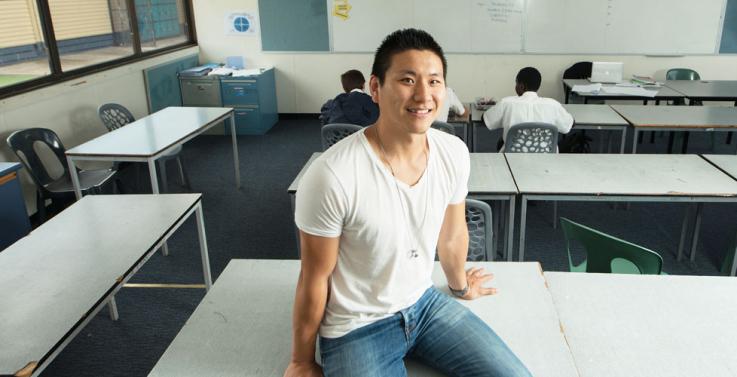 Australia's first in-house school lawyer is advising and representing students from a high-needs P-12 school in Melbourne's west after a successful pilot last year.
Vincent Shin, a Victoria University law graduate and the country's first in-house school lawyer, is spending four days a week at The Grange P-12 College in Hoppers Crossing.
The school is home to 1700 students from nearly 60 ethnic groups, many of whom are from low socio-economic or migrant backgrounds.
Issues students could face include family violence, homelessness, employment and consumer problems, public transport fines, criminal law charges, and navigating the legalities of social media.
While it's not unusual to have lawyers doing school visits, Vincent is the first lawyer in Australia to have a drop-in office permanently located at a school.
His work is as much about education and early intervention for students, their families, and school staff, as it is about representing and accompanying students in court.
"Many students and their families do not know or understand their rights, which is just as important as understanding their responsibilities," he said.
Run by the Western Community Legal Centre, Vincent was chosen for the role last year because of his part-time work during law school as a residential carer for abused and neglected children, and as a volunteer at the Footscray Community Legal Centre.
In the students' eyes, it's perhaps more important that he's an amateur boxer and rides a motorbike.
"Every day is different, every student is different," he said. "It's essential that I'm not a stiff lawyer in a suit because it would be impossible to build relationships with the students," he said.
Vincent's interest in law started a few years after high school. His low ATAR score meant he was rejected by many law schools despite doing well in a TAFE legal course. VU gave him a chance and he completed his Bachelor of Laws degree with Honours in 2013.
"Gaining real-life experience during a law degree is essential to getting into the profession, and the links that VU has with industry were critical to me getting to where I am now."
His future dream is to become a magistrate at the Melbourne Children's Court.
The school lawyer program was launched last June and is philanthropically-funded. Its success will be evaluated externally at year-end with an aim of expanding it to other Australian public schools.
Apply to study a Bachelor of Laws in 2016.