Wednesday 26 November 2014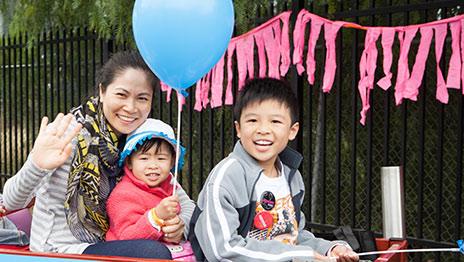 Close to 1000 people took part in Footscray Celebrates, a street festival hosted by Maribyrnong City Council on Saturday 15 November to mark the completion of key improvements including a two year upgrade to Footscray Railway Station.
Footscray Railway Station now has two new platforms and new escalators, ramps, lifts and stairs from the Irving St and Hyde St entrances. It has more surveillance and CCTV coverage and now has secure bicycle parking.
At Footscray Celebrates residents vied for free neck, shoulder and back massages from VU students and to participate in a high jump challenge provided by VU Sport.
State Trustees ran regular escorted tours to viewing platforms on the eleventh floor of their new building on the corner of McNab Avenue.
Regional Rail Link showed off recently completed renovations to the station.
VU and Maribyrnong City Council manned Footscray University Town stands at either end of the street and handed out giveaways and information.
Entertainment included mini train rides, a larger than life walking snuff puppet, the Footscray Women's Circus, acoustic music from a centre stage, a Chinese dragon, face painting and a jumping castle. Five food stalls reflected Footscray's diverse offerings.
Footscray University Town events & activities
This was one of a range of events & activities brought to you as part of the ongoing Footscray University Town partnership between Maribyrnong City Council and Victoria University.