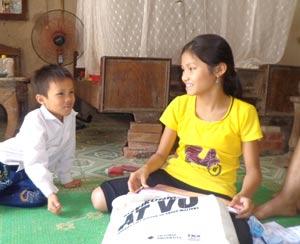 VU's Diploma of Nursing will be offering students a two week study tour to Vietnam in September this year.
The College of Health & Biomedicine will organise a third Australian Government subsidised study tour to Vietnam in the September/October semester break this year for students enrolled in the Diploma of Nursing program.
As a component of the tour, students visit an organisation in Hanoi called Blue Dragon Children's Foundation and participate in an informative workshop with them.
The Diploma of Nursing staff support Xuan's (pictured) education through Blue Dragon, without which her family could not afford to send her to school. The photo shows Xuan (and her little brother) receiving a VU bag full of practical gifts collected by Nursing Teacher Dr Susanne Kristy and dropped off with Blue Dragon for Xuan when Dr Kristy was in Hanoi last year.
Blue Dragon Children's Foundation
To date, Blue Dragon has:
Sent 2,677 kids back to school and training
Provided accommodation to 153 girls and boys
Served 323,522 meals
Built or repaired 62 homes for families
Distributed 36,587 litres of milk
Handed out 42,404 kilos of rice
Reunited 168 runaway children with their families
Taken 1,108 kids to a doctor or hospital
Put 6 teens through drug rehab
Obtained legal registration papers for 2,031 children
Rescued 303 trafficked children
Placed 133 teens in jobs
Played 1,400 games of soccer!