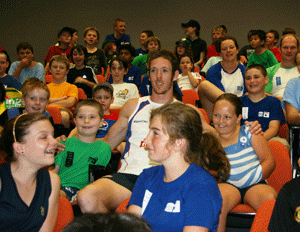 Western Bulldogs forward Robert Murphy visited children in Victoria University's Sports Camps program this week.

The group, aged between 6 and 15 years, take part in a variety of activities and sports including basketball, cricket, netball, soccer, tennis or swimming.

As part of the week-long activities, the kids asked Murphy about his life as a professional footballer, as well as his activities outside the sport.

VU Sports Camps Director, Dr Richard Baka said the University has had a close relationship with the Bulldogs since the inception of the Sports Camps 15 years ago.

Find out more about VU Sports Camps.