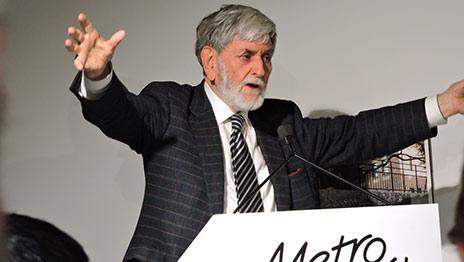 The Honourable Dr Barry Jones presented the first in a series of Game Changers conversations at VU at MetroWest in Footscray on 2 March with a broadside at universities for not exerting the influence they have in the past.
In his talk, Evidence, opinion, interest: the attack on scientific method, Jones said that entering the debate "doesn't add to your debt or to where you're going. Universities are being seen as trading corporations and the managers have taken over."
"Today's Australians are by far the best educated cohort in our history, but this is not reflected in the quality of our political discourse.

We appear to be lacking courage, judgement and capacity to analyse.

Australia, like the US, UK, Canada and much of Europe, has undergone a serious decline in the quality of debate on public policy. In an era of 'spin', when a complex issue is involved, leaders do not explain.

I've been arguing for a long time that evidence-based policies rather than sloganeering should be the basis for arguments. But the reality is that they are not. The quality of the argument has become really terrible."
Demand at universities for the 'enabling' subjects such as physics and mathematics is high in our neighbouring countries but is sharply falling in Australia.
"Here scientists have come under attack and how they do their work has been trivialised. There is a disturbing conflict between evidence and opinion and mounting impatience if the story goes on (in the media) for too long," he said.
When asked by VU Vice-Chancellor, Professor Peter Dawkins, about the role of academics and evidence-based universities, Jones' response was simple.
"Universities need to vigorously debate and to organise a campaign. Vice chancellors could unite and be collectively outraged about the deregulation of universities."
Jones also advocated experts speaking broadly on issues.
"Scientists and learned societies have been punching below their weight in public policy and are careful to avoid being involved in controversies outside their disciplines.

Science must be at the core of our national endeavour and you are well placed to examine the evidence, evaluate it, then advocate and persuade. Our nation's future depends on the quality of its thinking, and its leaders.

I encourage you to argue for higher recognition of the role science must play in our futures and to drive your MP mad unless or until he or she does something about it."
Game Changers conversation series
The Game Changers conversation series presents pivotal concepts, personalities and moments in Australia's evolving story for public discussion and debate. Each event is free and open to the community. Registration is not required.
Next in the Game Changers series is 40 years of Vietnamese settlement: perspectives from the son of a veteran, presented by Phong Nguyen on 21 April, 6-7.30pm. Phong Nguyen is former chair of the Ethnic Communities Council of Victoria and president of the Vietnamese Community of Australia.
The Game Changers conversation series is jointly presented by Maribyrnong City Council and Victoria University as part of their Footscray University Town partnership.