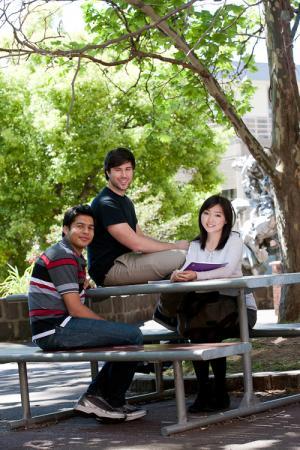 Two Victoria University researchers are part of an award-winning team helping to improve interaction in the classroom between international and local students.
Dr Amanda Pearce, honorary fellow and recently retired Associate Director Language Learning and Numeracy, and Professor Helen Borland, Director of Postgraduate Research, helped design a professional development resource kit "" including a DVD -- that uses a new framework and examples of practices that academics can use to foster more interactions between the two groups, both inside and out of the classroom.
The project, Finding Common Ground, won the award for best innovation in international education at the Australian International Education Conference held in Adelaide last week.
The project was developed after student surveys found that international students were disappointed with the lack of opportunities to interact with local students, who spend relatively less time on campus than their international counterparts. Students also felt that local and international students often lacked 'common ground,' or topics to talk about that were of real importance to all.
Professor Borland said the research aims to bring a new dimension to the concept of internationalisation of education by supporting carefully planned collaborative learning based on the academic curriculum. The kit focuses on recognising and harnessing the cultural and ethnic diversity of all students through successful group activities in the classroom and peer mentoring, allowing students to bridge the international-local divide and work productively together.
A number of VU lecturers and students contributed to the project by participating in focus groups to share their experiences and successful strategies for enhancing intercultural learning, some of which is featured on the DVD.
The two VU researchers collaborated with other researchers from the University of Melbourne and RMIT on the project. It was funded by the Australian Learning and Teaching Council.