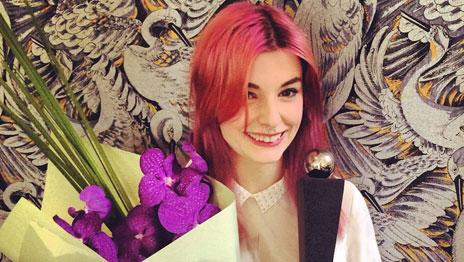 Congratulations to Victoria University hairdressing apprentice Steffi Tanian, who earlier this month took out the Australian Hair Fashion Awards (AHFA) apprentice of the year award for the second year in a row.
The 22-year-old St Kilda resident says winning in 2013 and 2014 was a reward that reflected her passion for hairdressing.
Steffi has been working in salons since she was 15. For the past two years she has apprenticed at Chapel Street's Chumba Concept Salons.
"I enjoy all of the creative elements of hairdressing, especially creative colour work," she says. "It's very rewarding to have a career where you can express yourself, but also help people at the same time."
Now in its 22nd year, the AHFA is Australia's largest independent hairdressing awards program and the ultimate celebration of the synergy between hair, fashion and culture.
Steffi spent weeks preparing her entry for the awards. She was required to present a photographic collection of hairstyles – from concept to sourcing models, stylists, make-up artists and photographers – as well as a written submission about her industry contributions and professional development during the year.
Another VU hairdressing apprentice, Caity Williams, who also works for Chumba, helped Steffi with the make-up for her entry.
Now that Steffi is a qualified hairdresser, she wants to strengthen her client base and enter further competitions to develop her career.
"Long-term I'd like to be recognised as a creative colourist with a good enough reputation to be able to travel the world with my work."
At the same event, VU salon partner Mieka Hairdressing, owned by Tracey Hughes, won AHFA's Excellence in Education award for the fourth year in a row.