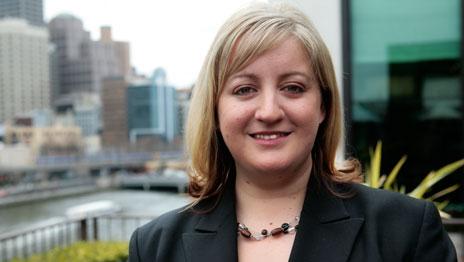 Congratulations to Victoria University business graduate Kristy McGowan who was recently named Crown Resort's Manager of the Year – Business Services.
"I love what I do, so this reward is really the icing on the cake," says Kristy. "It was such an amazing honour when there are so many talented and hardworking managers within our company."
Kristy has worked at Crown for the past 13 years, and was the organisation's first ever co-operative program student in 2001. This involved undertaking the third year of her Bachelor of Business in Tourism and Hospitality in a paid industry placement to experience a real-world work environment.
"Crown offered a structured 12-month co-op program that included exposure to a number of different departments, and after two successful interviews I was hired," she says.
Working at Crown opened up a "whole new world," says Kristy. "Crown is such a big place, there's always so much going on. It was a real eye-opener to realise how diverse and vibrant the hospitality industry can be."
Since launching her hospitality career in Crown's co-op program, Kristy has quickly worked her way up through a number of roles within the organisation. She was reservations agent in 2002, group reservation coordinator in 2003, hotel duty manager in 2004, assistant manager reservations in 2007, revenue manager in 2009, and appointed to the newly created role of group revenue manager in 2013.
Kristy was selected for her Manager of the Year award by the Crown executive team for her performance, contribution to the business, leadership style and potential for professional growth.
While she gets "great pleasure just from showing up for work every day", Kristy also enjoys sharing her knowledge and experience through volunteer guest lectures with the next generation of Victoria University students preparing to break into the booming tourism and hospitality industry.
"The co-op program is an exceptional experience because it gives students an understanding of all aspects of hotel operations," Kristy says.
VU's College of Business work-integrated learning (WIL) co-ordinator Tania Piacente says Kristy has been an excellent ambassador and supporter of VU's workplace program.
"She presents to students, and adds enormous value to our students' learning as she brings great industry insights into the classroom," Tania says.
Kristy also participates in many VU networking events such as the College of Business annual awards and the annual WIL Hospitality, Tourism and Events Expo.
"She was an amazing student and is very deserving of her recent award at Crown," Tania says.