Ending the great Australian complacency - VC's lecture
This event has already taken place.
Distinguished Professor Ross Garnaut is the guest speaker at the upcoming Vice-Chancellor's Lecture - Ending the great Australian complacency.
He will explore the relationship between the China resources boom and its contribution to an unsustainable housing and consumption boom. Rising incomes and expanding services have come to be taken for granted - despite the collapse (until very recently) of productivity growth.
Australia is still enjoying the longest period of growth unbroken by recession of any developed country since national accounts have been kept on a quarterly basis. For most of a decade from 1991, growth was sustained by rapidly increasing productivity growth on the back of reforms between 1983 and the end of the century. But what does the future hold for a nation facing unprecedented challenges?
Hear Professor Garnaut outline the immense challenge faced by Australia to maintain high employment and living standards in the aftermath of the China resources boom, and to distribute equitably the burden of adjustment to maintain high employment. Can Australia still prosper as structural change in China transforms growth in import demand for energy and metals?
Register for the lecture
Register for Ending the great Australian complacency
Arrive at 6.15pm for a 6.30pm start.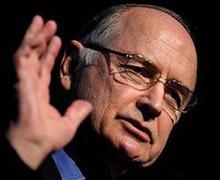 When?
This event has already taken place.
28 May 2013,

6:30pm

to

8:30pm