Curriculum Technologies: Play-based workshop for teachers
This event has already taken place.
Victoria University is hosting an extended two-day workshop for teachers to work with the new technology curriculum.
This extended workshop is an opportunity for mentor teachers and pre-service teachers to work together in a hands-on and collaborative way. The focus will be to develop the skills and understanding required to teach the new technology curriculum.
At the workshop you will:
develop technology skills through a experiential play-based approach in a supportive learning space
critically reflect on practice
understand the Victorian Technologies Curriculum, including design thinking, problem-based learning and inquiry
develop, trial, evaluate, adapt and share curriculum-aligned activities
develop information and communication technology (ICT) pedagogy with colleagues.
Program
Friday 12 August
The morning activity will give you the opportunity to play creatively with a range of software (e.g. Scratch) and hardware (e.g. Arduino) to address a choice of open-ended tasks. The activities will be worked on in relation to the national and Victorian curriculum.
In the afternoon, participants will work with the design aspiration of devising school-based activities for students that match curriculum requirements.
These activities will then be used in the school environment between the two workshop days.
Friday 2 September
In session two, you will evaluate and refine the activity that was designed in session one and used in your school.
The collaborative learning environment will collectively adapt participants' school-based activities and compile them as a collective resource to be published online.
Register
The workshop is kindly made possible by Google CS4HS and Victoria University. Both workshop days include lunch and cover of $150 per day, which will be paid to your school, releasing you to attend the sessions.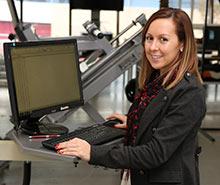 When?
This event has already taken place.
12 August 2016,

9:00am

to

3:00pm
2 September 2016,

9:00am

to

3:00pm