Atelier in the cloud - online virtual canvas
This event has already taken place.
Saturday 21 November 2015

to

Saturday 28 November 2015
As part of the Big West Festival, John Derrick, Nursing teacher at VU, brings us Atelier in the cloud.
Atelier in the cloud is an online virtual canvas, letting members of the public paint virtual brushstrokes in a computer controlled vision system that will track the user's hand movements.
Two people will able to collaborate in different locations in the gallery, using the internet to create a collaborative 3D virtual painting. Participants respond to the marks made by each other in real-time; as one creates a virtual brushstroke, the other will respond accordingly. Much like applying oil paint on canvas, users are able to create 3D virtual imagery in an intuitive way, and will be able to take home a digital image of their virtual 3D creation.
Atelier in the cloud is free and open to everyone.
About the artist
Derrick's art explores the intersection between oil painting and 3D computer-generated game environments.
He was awarded a Samstag Scholarship in 1998 and spent two years studying at Pratt Institute in New York. He is also an independent curator and was the visual arts curator of the "Dark Luminance" exhibition exploring real and virtual gallery environments. The exhibition travelled to New York in 2008 and Melbourne in 2009. Joe Bendik for the Chelsea Clinton Press in New York wrote about the exhibition:
"Sometimes I encounter an exhibition that is so overwhelming, covers so much territory and breaks so much new ground, it is difficult to write about."
Footscray University Town events & activities
This one of a range of Footscray Uni Town events & activities brought to you as part of the ongoing Footscray University Town partnership between VU and Maribyrnong City Council.
Join the VU at MetroWest mailing list to receive regular updates about upcoming events.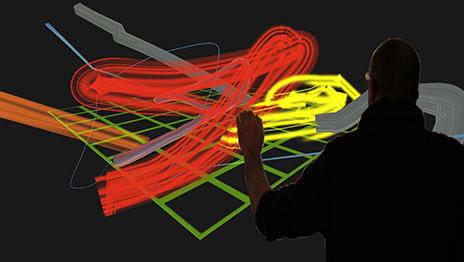 When?
This event has already taken place.
Atelier in the cloud sessions are as follows:
21 November: 10am, 12pm, 2pm & 4pm
23 - 28 November: 10am, 12pm, 2pm & 4pm