Wayne Butson is an accomplished leader in the field of vocational education, recognised for his exceptional leadership, commitment to driving positive change, and dedication to transforming lives through practical learning and advancing the quality and impact of vocational training programs.
Mr. Butson is a Chair Academy Graduate and facilitator, holds a Master's degree in Education and has amassed a wealth of experience in vocational education leadership roles. His passion for vocational education stems from a deep belief in its power to unlock opportunities and empower individuals from all walks of life. He is strong advocate of vocational programs being accessible to learners from diverse backgrounds (including individuals from underrepresented communities, low socioeconomic backgrounds, and individuals with disabilities) to succeed and thrive, and is passionate about making a difference in the western region of Melbourne.
Mr. Butson has worked with Victoria University for 20+ years and has held substantive roles as:
Head of School
Associate Director of Quality and Capability
Associate Dean of Learning, Teaching, and Students
Dean of Victoria University College.
In 2011, Wayne was the recipient of the Vice-Chancellor's Award for Outstanding Service to the University for his continued service to and in the field of Community Development.
Currently, as Interim Deputy Vice-Chancellor Vocational Education at Victoria University (VU), Wayne leads Victoria University Polytechnic (the Vocational Education division of Victoria University) and is a senior member of the Vice- Chancellor's Executive Team. He leads the broad range of industry-informed courses at multiple levels across the Australian Qualification Framework (from certificates through to graduate diplomas) for an extremely diverse number of communities in Melbourne's west and internationally. Victoria University specialises in highly interactive, blended, and applied learning solutions that meet the skills needs of current and emerging industries. With Wayne at the helm and a team of dedicated leaders, the vocational education division of Victoria University is well positioned to equip students for the commercial world with a wide range of vocational and academic courses.
On a personal level, Wayne is a sports lover and a passionate member of the Australian Lacrosse community and has managed numerous teams at the national level, including currently volunteering as the manager of the Victorian Men's State Lacrosse team the reigning national champions.
Passionate, dedicated, and forward-thinking, Wayne Butson is a trailblazer in the field of vocational education. Through his visionary leadership, he continues to shape the future of vocational education, empowering individuals with the skills and knowledge they need to thrive in a rapidly changing world.
Portfolios
Areas of expertise
Adult education
Analysis & implementation of vocational training policies & procedures
Industrial relations
Industry engagement
Teaching and learning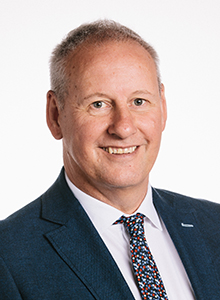 Contact details
Candida Menezes, Senior Advisor and Executive Coordinator