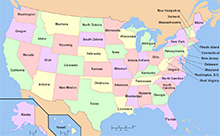 TERM-USA is a multiregional economic model of the United States of America with extensive capabilities for a wide range of economic analysis. You can purchase customised versions focussing on regions, sectors and occupations that meet your requirements.
TERM-USA features:
a computable general equilibrium (CGE) framework capturing the behaviour of economic agents (producers, households, investors, importers/exporters and government) in US regions linked by interregional trade and economy-wide constraints (see documentation & literature)
an extensive list of regions, sectors and occupations allowing the purchaser to choose:

from 512 sectors and 70 regions
or from 120 sectors for 436 congressional districts.
TERM-USA is based on CoPS' well-established TERM model, now used in many countries. TERM's theoretical structure incorporates standard modelling of resource constraints and price-responsive behaviour. The model's theory and database construction method are extensively documented in refereed journals and book chapters. Model purchasers are provided with clear operating manuals.
Uses of a TERM-USA model
TERM-USA is a powerful tool for short-run and long-run analysis of economic shocks affecting the US and its regions. The TERM-USA database relates to 2013, and is developed using detailed official national and regional statistics. Users of TERM-USA can assess the economic impacts on their own regions, other regions and the nation of new economic policies and events, such as:
major infrastructure/industrial projects
major events (e.g. hosting a championship event, or Olympics)
changes in state/national tax rates
changes in wages policy.
For more examples of policy applications, see Model applications.