Read about the latest activities of the Victoria Business Confucius Institute.
Find out about upcoming events, courses, competitions, and news.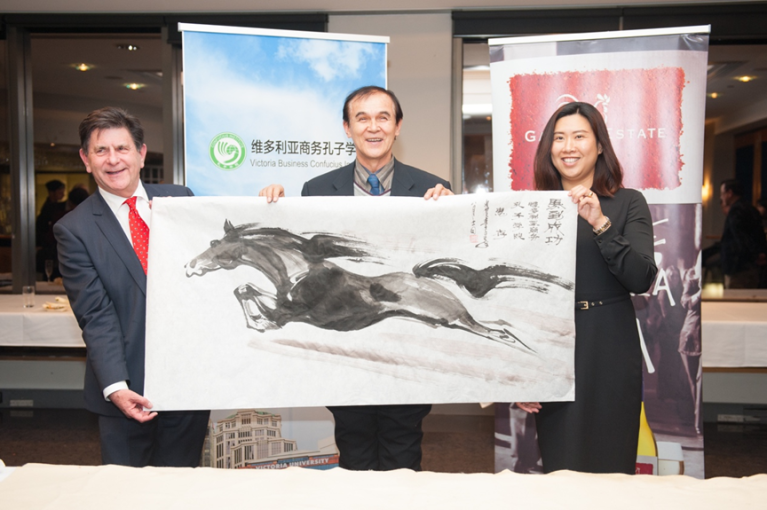 News from the Institute
The 18th "Chinese Bridge" Chinese Proficiency Competition for Foreign College Students Oceania Section was held in Melbourne on May 19th, 2019. On behalf of the Victoria University, Angus Simmie and Maxim Zervos were awarded Excellence Awards on the day.  
Ten college students from six universities in Melbourne participated in the competition. Angus Simmie and Maxim Zervos from the Victoria University participated in the competition on behalf of University. Prof. Colin Clark, Dean of the Victoria Business Confucius Institute at VU, and Prof. Claire Wang, the Chinese Dean of VBCI presented Excellence Awards to both contestants.
Chinese Bridge (Chinese: 汉语桥) is a contest for foreign college students on their mastery of the Chinese language, promoted by the Chinese National Hanban and established as a plan to introduce Chinese to the world. Since it began in 2002, more than 600 contestants from over 50 countries throughout the world have participated in the annually-held Chinese language competitions in China.
During the competition, Angus cited a traditional Chinese proverb "people within the globe are all brothers and sisters" to closely follow the theme of "We are the world" and developed his keynote speech, which the judges praised. In the talent show, Maxim performed a classic Chinese pop music The Moon Represents My Heart with guitar. The performance won him a round of applause and the final Award.
It is worth mentioning that both Angus and Maxim were members of the first group of university students going to China Cultural Experience Camp held by VBCI in November last year. After completing their cultural experience camp in China, they signed up for the free Mandarin Workshop offered by the Confucius Institute at Victoria University in March 2019. With only two months training, Angus and Maxim were able to perform in Chinese confidently on stage.
After the competition, both Angus and Maxim expressed their sincere gratitude to VBCI and would like to see more exciting events coming. For more information, please follow our Facebook page and subscribe to our newsletter.
"Thanks for your kind words of support. I am very glad to have found the VBCI community, it has really enriched my experience at VU and continues to offer valuable opportunities to expand past my comfort zone."  --Maxim Zervos
VBCI & Victoria University news & events