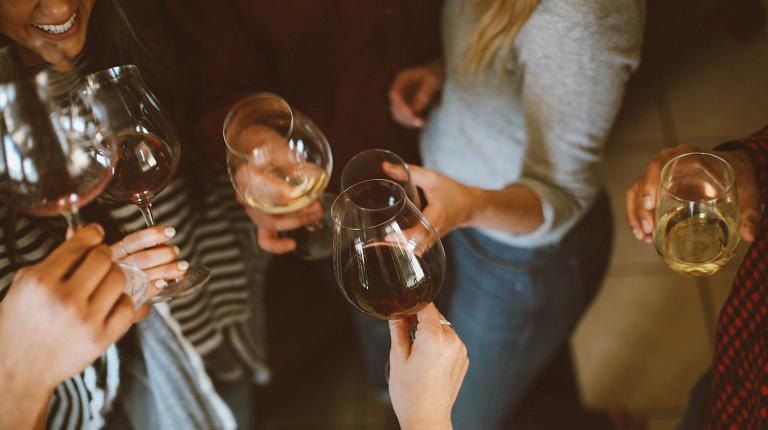 Some of Australia's wealthier and traditionally healthier areas along with regional areas have the highest risky drinking rates in the country, Australia's Health Tracker by Area, Alcohol Report from the Mitchell Institute at Victoria University shows.
As Australians head into the festive season, the Tracker shows that the top five biggest drinking locations are in some of the wealthier areas of Australia.
Nationally, the average risky drinking rate* is heading downward, with 17.1% of Australians over the age of 14 drinking at risky levels, and we are on track to reach the 2025 target of 16.1%, set by the Australian Health Policy Collaboration – a group of 70 leading health organisations and experts.
However, the Alcohol Report shows that risky drinking rates vary dramatically across the country, from as low as 6.5% in Greater Dandenong in outer east Melbourne to 31.5% in Byron Shire and Perth's wealthy beachside suburbs.
People who drink to excess are at much higher risk of alcohol-related illness including heart disease, stroke, liver disease, some cancers, depression, anxiety and dementia.
Professor Rosemary Calder from health policy think tank the Mitchell Institute at Victoria University said many of the areas with Australia's highest risking drinking rates usually measured positively for healthy lifestyle behaviours.
These wealthier areas have some of the lowest obesity and smoking rates in the country and highest rates of exercise and healthy diet.
"This suggests these people are receptive to and act on public health information to maintain and improve their health," Professor Rosemary Calder said. 
"However, when it comes to drinking, it appears they are not heeding the health concerns and are continuing to drink at risky levels."
She said government programs that promoted safe drinking, and healthcare supports should be targeted into the communities that needed it most.
"Just as we need to provide greater quit smoking supports in our low socio-economic communities, we need to focus on getting effective information and supports for reducing alcohol consumption into regional and wealthier city communities," Prof Calder said.
The Australia's Health Tracker by Area Alcohol Report shows that lower socio economic communities with high migrant populations had the lowest rates of risking drinking.
"This suggests that a culture of drinking plays the biggest factor in risky drinking rates, and alcohol prices are also influencing drinking patterns," Prof Calder said.
Approximately 5,500 deaths and 157,000 hospital admissions are attributed to alcohol consumption in Australia each year, and alcohol-related harm costs the economy more than $14 billion per annum (PDF).
The Australian Health Policy Collaboration, led by the Mitchell Institute, recommends extending the volumetric excise, which applies to spirits and beer, to exempted alcohol including wine, cider and other fruit-based alcohol products, and to increase the tax by 10%. The policy would not only simplify the complex alcohol tax system, but would reduce the volume of alcohol consumed.
The evidence is very clear that this is the most effective way to dramatically reduce risky drinking rates.
Deakin University modelling shows that the policy would reduce alcohol consumption by 16% and, due to the high calories in alcohol, would also reduce obesity.
Their research shows that it would lead to 190,000 fewer cases of diabetes, 16,000 fewer cancers and would deliver an extra  470,000 healthy life years. The healthcare savings to the economy would far outweigh any cost of the change.
Risky alcohol consumption is responsible for 4.6% of Australia's burden of disease (PDF) including: 12.8% of breast cancers, 4.3% of bowel cancers, 6% of cardiovascular disease, 6.4% of liver disease and 34% of injuries. Globally it contributes to an estimated 33% of the mental illness disease burden and 22% of suicide deaths.
One in two Australians is currently living with a chronic illness such as cancer, heart disease or dementia. About a third of that could be prevented by reducing smoking, high body mass, alcohol use and high blood pressure, and increasing physical activity.
---
* Risky drinking for this research was the consumption of two standard drinks or more on any day. This week, the NHMRC released new draft alcohol guidelines recommending no more than 10 standard drinks per week and no more than four drinks in one day.
National data of 17.1% of people drinking at risky levels includes people aged 14 and over.
Data by area
Full data is available in this risky drinking spreadsheet (XLSX, 37 KB).
Data is by local government area and for people aged 15 and over.
Most risky drinkers – national
| | |
| --- | --- |
| Byron, NSW | 31.6 |
| Cottesloe, WA | 31.5 |
| Mosman Park, WA | 31.5 |
| Peppermint Grove, WA | 31.5 |
| East Fremantle, WA | 29.8 |
Fewest risky drinkers – national
| | |
| --- | --- |
| Greater Dandenong, VIC | 6.5 |
| Fairfield, NSW | 6.6 |
| Auburn, NSW | 7.9 |
| Strathfield, NSW | 8.4 |
| Brimbank, VIC | 8.6 |
Biggest drinkers in each state/territory
| | | |
| --- | --- | --- |
| NSW | Byron | 31.6 |
| WA | Perth's Western suburbs** | 31.5 |
| VIC | Bright/Towong | 27.6 |
| SA | Kangaroo Island | 27.0 |
| NT | Inner Darwin | 23.8 |
| QLD | Caloundra/Maroochy Hinterland | 22.7 |
| TAS | Tasman | 22.2 |
Fewest drinkers in each state/territory
| | | |
| --- | --- | --- |
| VIC | Greater Dandenong | 6.5 |
| NSW | Auburn | 7.9 |
| SA | Salisbury | 12.2 |
| QLD | Ipswich | 13.6 |
| WA | Canning | 15.7 |
| TAS | Kentish | 14.4 |
| ACT |   | 14.9 |
**Cottesloe, Mosman Park, Peppermint Grove and Fremantle
Data source
National average statistics: National Drug Strategy Household Survey, 2017, AIHW (Latest survey).
Regional breakdown of data: Australian Health Tracker by Area, 2016