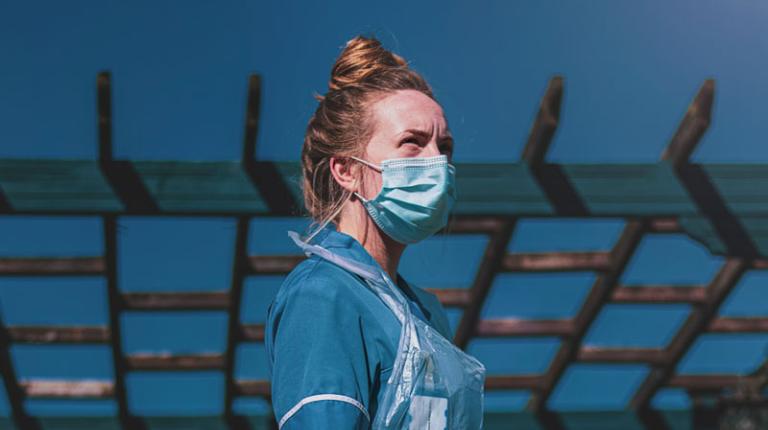 The link between pre-existing chronic illness and COVID-19 hospitalisation and deaths highlights the importance of preventing and maintaining the health of individuals and Australia's population.
The latest Australia's Health Tracker from the Mitchell Institute at Victoria University shows one in two Australians are suffering from chronic illness – conditions, such as heart disease, diabetes and high blood pressure, which have been linked to higher risk of hospitalisation and death from COVID-19. A third of the country's chronic disease burden is completely preventable but instead rates are rising.
Professor Rosemary Calder, from health policy think tank Mitchell Institute, who  leads the Australian Health Policy Collaboration, said the evidence coming from the US, Italy and China was showing that 78% to 99% of people hospitalised with COVID-19 had a pre-existing chronic illness such as heart disease, diabetes and high blood pressure.
Many chronic illnesses, including up to 80% of heart disease and up to 60% of type 2 diabetes, are preventable through regular exercise together with a healthy diet, not smoking and reduced alcohol consumption.
"One of the biggest lessons from this pandemic is that many Australians could be better protected from infectious diseases in the future if the nation continues to work together, as it is now, to reduce the rising rates of preventable chronic diseases and conditions that are putting our population at such risk."
However, Professor Calder said at the very time Australians needed to be eating healthily and exercising regularly, fruit and vegetable prices were rising, sales of alcohol were rising and people were struggling to maintain their exercise during the lockdowns.
There is strong evidence that physical activity boosts the immune system, something everyone needs as we face the risk of contracting COVID-19.
"One of the key recommendations from the Australian Health Policy Collaboration is a subsidy on fruit and vegetables, particularly in low income communities," she said. "This is a policy the government should be visiting as a matter of urgency to help maintain the health of disadvantaged Australians during this crisis."
Preventable chronic illness is not just a risk during COVID-19, each year it accounts for tens of thousands of deaths in Australia and needs to be addressed as a high priority for the longer term.
The Australian Health Policy Collaboration, involving 60 leading health policy experts, has been recommending government policies to: end marketing of junk food to children; regulate for food reformulation to significantly reduce unhealthy ingredients – such as sugar and salt - in processed foods; subsidies or targeted strategies to make fresh fruit and vegetables more affordable to low income communities, and; enabling all schools to set up walking and riding zones so that all children are able to walk or ride at least a kilometer each school day.  
"Now, during the pandemic, all governments should be emphasising that it is more important than ever before that the population stay physically and mentally healthy and maintain a good diet and regular exercise. This is even more important for people with chronic illness to ensure their pre-existing conditions do not further deteriorate," Professor Calder said.
"Australians have heard the message that we need to 'stay at home'. Right now this needs to be balanced with strong advice that people should maintain a healthy diet and exercise during the coming months to boost their immune system and prevent chronic illness from deteriorating for the one in two that have a pre-existing condition."
The latest Australia's Health Tracker, developed with the Collaboration, has found the rate of people with multiple chronic illness has been rising and lifestyle behaviours were not improving pointing to further increases in chronic illness. Getting Australia's Health on Track is the Collaboration's blueprint for governments and others to act to support the population to reduce the rates of preventable chronic illness.
Professor Calder is a member of the national steering committee for the Australian Government Health Minister's National Preventive Health Strategy.