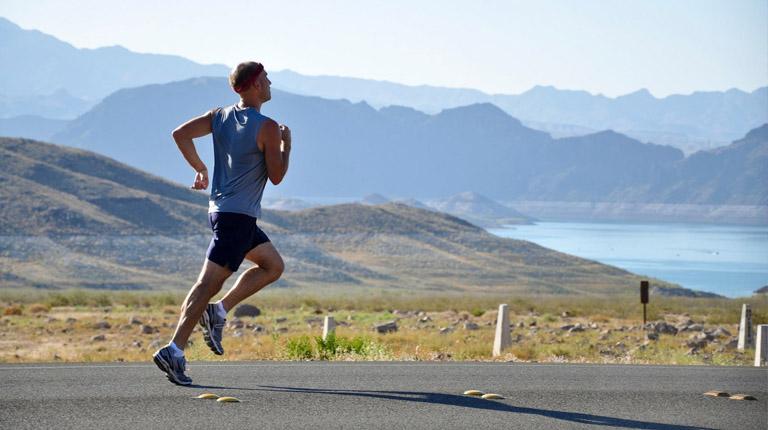 Australia's Health Tracker is a set of national report cards tracking the health risk factors in the Australian population that contribute to preventable chronic diseases. It includes Australia's Adult Health Tracker and  Australia's Children and Young People Health Tracker.
Chronic disease is the biggest health challenge of the 21st century. Australia lags well behind comparable countries in preventing and reducing the main risk factors that contribute to the poor health of people and to the rising rate of preventable chronic diseases in the Australian population.
Australia's Health Tracker 2019 continues the work of a national collaboration of public health and chronic disease organisations and experts that began in 2015 and produced health targets to support, guide and track progress towards a substantial change in the health of our nation. This report card is the second edition reporting against those targets. The report uses the most recent data collected nationally, such as the national census and the most recent national health survey data, and includes data on both Aboriginal and Torres Strait Islander and non-Indigenous people, and children as well as adults.
An estimated one in two Australians have a chronic disease. More than one-third of chronic disease could be prevented by reducing risk factors such as physical inactivity, high body mass, smoking and alcohol use. Chronic disease affects individuals, their families and carers. It affects participation by individuals in education, the workforce and the community, impacting on labour efficiency and hampering economic growth.
The Australian Health Policy Collaboration at Mitchell Institute has brought together a network of Australia's leading chronic disease experts to drive progress in tackling and preventing chronic disease. The national collaboration has produced health targets to support, guide and track progress towards a substantial change in the health of our nation.
The collaboration drew on the agenda set by the World Health Organization (WHO) in the WHO Global Action Plan for the Prevention and Control of Noncommunicable Diseases 2013-2020. The collaboration has developed and regularly updates a set of Australian chronic disease prevention and reduction targets and indicators for achievement by the year 2025, in line with WHO goals. As a member state, Australia has a commitment to reduce the impacts of non-communicable diseases and report progress on an ongoing basis and the targets developed by the Collaboration provide policy and implementation focussed guidance on how best to achieve effective prevention and reduction in chronic disease risk factors for Australians.
Australia's Health Tracker provides a comprehensive and clear assessment of how Australia's population is faring when measured against the Collaboration's national health targets. This second edition shows that Australia faces major challenges with rising levels of obesity, requiring urgent and effective strategies to halt and reverse the trend in both levels of obesity and rates of Type 2 diabetes in the population.
A national prevention agenda is vital. We welcome the recent Government announcement to reduce smoking rates to below 10% by 2025 as part of the National 10-year Preventive Health Strategy. We know that communities of disadvantage are much more likely to experience poorer health outcomes so we will continue to focus on addressing the shared risk factors for poor health and to provide support to those at highest risk of developing chronic disease.
Australians deserve a healthier future. We can, and we must, do better.
Infographic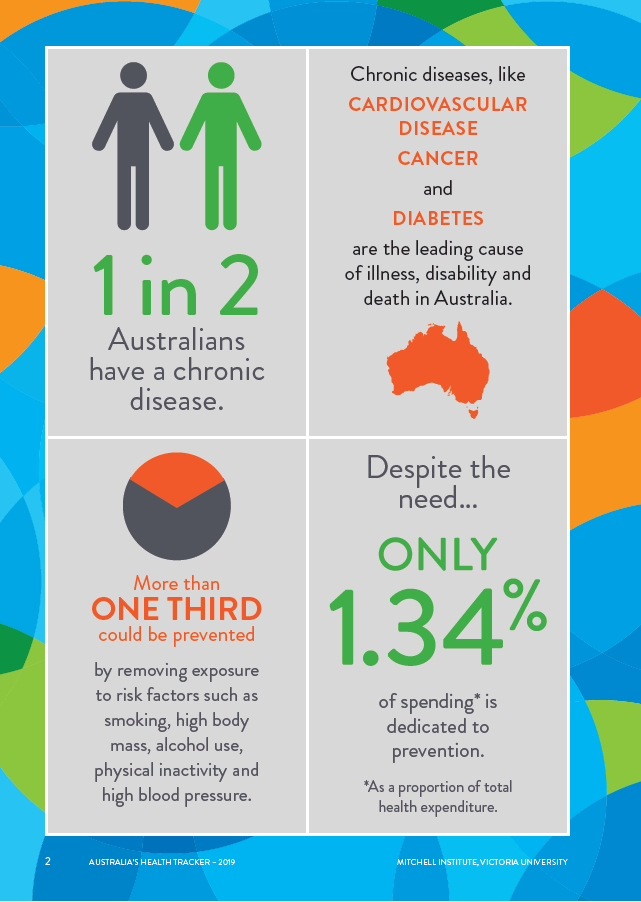 Infographic text alternative:
1 in 2 Australians have a chronic disease.
Chronic diseases, like cardiovascular disease, cancer and diabetes are the leading cause of illness, disability and death in Australia.
More than one third could be prevented by removing exposure to risk factors such as smoking, high body mass, alcohol use, physical inactivity and high blood pressure.
Despite the need… Only 1.34% of spending* is dedicated to prevention.
*As a proportion of total health expenditure.
Australia's Health Tracker – 2019. Mitchell Institute, Victoria University.