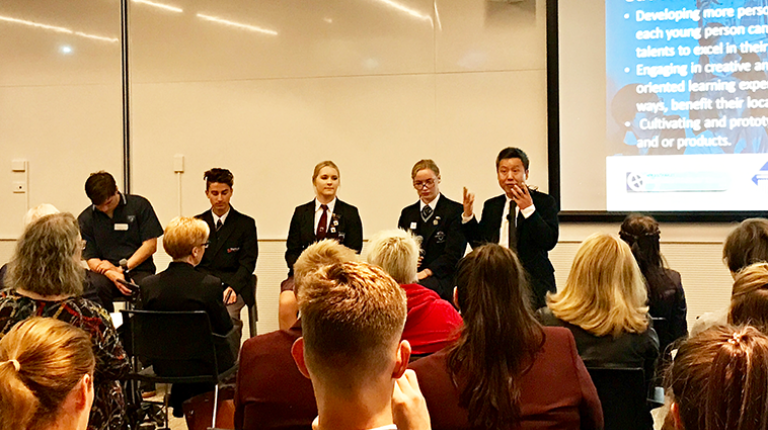 After 18 months of developing entrepreneurial projects within their schools and communities, over 150 students, staff and initiative partners came together on Monday 22 May 2017 to share, learn from and celebrate the Paradigm Shifters: Entrepreneurial learning in schools project. 
Each school in the project is tackling an issue in their school or community. One school has started a community garden with a local community centre to grow food for people doing it tough, and give unemployed people an opportunity to learn how to grow and prepare food. Another school has built a website where students can upload assignments, so ideas can be shared across the whole school and even with other schools, rather than in individual classrooms only. Other schools have started small businesses to recycle items and create opportunities to gain work experience, with some ideas receiving investment from local businesses.
Student-led learning and was central to the day with student-created videos and an opportunity for each school to discuss their work and how they're adopting Yong Zhao's principles of entrepreneurial learning. 
The problem was that while we are becoming a bigger school and we are getting more students, we are also losing the small school feel and most projects are falling through the cracks and not getting the people looking at them that they deserve, so we created this [website] and now students can look at each other's projects and be able to interact with it.

- Rian Webster, Year 8, Templestowe College
Professor Yong Zhao and Dr Michelle Anderson facilitated the discussion between students, staff and partners. We were also joined by Australian technology entrepreneur, Bevan Slattery, who shared his own career success and how he went from an average kid in regional Australia to one of Australia's most successful entrepreneurs. 
Thank you to the project partners, Victorian Association of Secondary Principals and the New South Wales Secondary Principals' Council. 
A summary of tweets from the day can be found here.