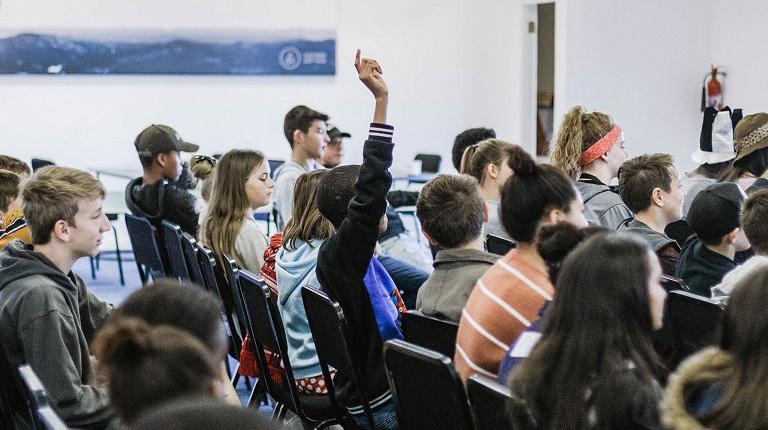 The world is changing. Young people need more than knowledge and basic skills to thrive in today's complex, global community.
It has become widely accepted that capabilities like creativity, collaboration, critical thinking, problem-solving, and persistence are what students need to go on to future success. World-leading education expert, Professor Yong Zhao puts it like this:
Students need to be able to think like entrepreneurs: resourceful, flexible, creative and global.
YouTube: Paradigm shifters: Young Zhao's three principles of entrepreneurial learning
How can schools & school systems move to a new paradigm better suited to the times?
Together with the Victorian Association of State Secondary Principals and New South Wales Secondary Principals' Council, we set out find a way to make secondary schooling meet the learning needs of all young people. We aimed to advance the capacities and talents of students by encouraging them to become entrepreneurial thinkers. 
Over 12 months, school leadership teams (where students were key, active partners) committed to co-designing and implementing new learning approaches in their schools. They followed three principles:
develop more personalised education experiences, so each person can pursue passions and talents to excel in unique ways
engage in creative and entrepreneurial product oriented learning experiences that can, in authentic ways, benefit local and global communities
cultivate and prototype new approaches, processes and or products.
Entrepreneurial learning can help all students be their best
We found that entrepreneurial learning can help grow the capabilities that are needed for lifelong success. By identifying and solving problems, communicating ideas and taking more control of their learning, students found more relevance in their education and experienced impact that stretched beyond assessment marks.
Teachers also benefited from participating in the initiative. Teachers expanded their learning approaches and reflected on how their role can support students - sometimes as an educator, other times as a mentor, co-learner or advisor. 
With this knowledge, governments and systems should support schools to try new learning approaches and connect with other schools working transform learning experiences. 
What students think about entrepreneurial learning
"..when you're finally presented the opportunity, although the immediate reaction is a bit of a setback - like, wow what do I do - the long-term effects of that are really surprising, because you say, wow, what's next for me, what else will I be able to think outside of this box?"
- Student, F, NSW
"… find out what it is you are scared of because once you identify something, that's when you're able to work with it … to find a solution."
- Student, M, Vic
"... it's a different relationship to a normal classroom teacher. They're more relaxed, and they're not demanding you have to do this by a certain time, where in class, that's what the relationship is in a classroom. So, by me telling the kids what to do, they're actually understanding it more. It's like they don't want to listen to the teacher, but they're happy to listen to peers." 
- Student, F NSW
What teachers think about entrepreneurial learning
"This, to me, was a really good opportunity to do something different. Because what we were doing didn't work… it wasn't about learning. It was about 'you just come to this place.' This gave us an opportunity to investigate that and to find out what a different kind of learning might look like."
- Principal, Vic
"All of these projects were very authentic, and very much benefited the local community, both school and beyond… we realised kids need connection to community resources. They need relationships with adults, mentors, outside and beyond the school. They need opportunities to discover what potential pathways there are. They need social literacy."
- Teacher VIC