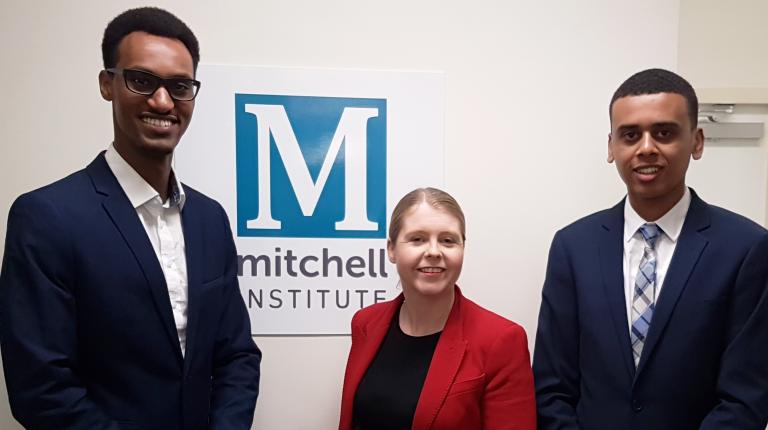 Youth Activating Youth (YAY) CEO Ali Ahmed and Co-founder and Director Ahmed Hassan visited Mitchell Institute to share insights about the important work YAY is delivering in Victorian communities. YAY connects young people who are facing challenges when it comes to things like education and work with young 'leaders' who help them find success.
Founded in 2015 in Melbourne, YAY aims to help marginalised young people reengage with communities — and since YAY includes young people in all of it's operations, they do this particularly well.
Young people who experience challenges often think they can't succeed.  We ask these young people to help design, implement and evaluate programs — we say to them, "see how you go."
The Mitchell and YAY teams discussed how Mitchell's recommendations for system-level reform could impact YAY's work. While YAY does excellent work with community groups, schools, industry and governments, there are barriers when it comes to making meaningful, lasting connections across the education system. 
Australia seems to be working towards meeting minimum benchmarks but perhaps more attention should go to what lies on either side of those — to the young people struggling to develop basic skills and to those who have exceptional qualities who could be developed as leaders and mentors. All young people should have equal opportunities to get ahead and lead meaningful, connected lives. 
YAY bridges the gaps between government organisations, non-profit agencies and other services to lift education and employment outcomes for young people and especially young people from multicultural backgrounds. Their programs provide the necessary tools for disadvantaged and disengaged young people to build self-confidence, self-efficacy and networks that encourage enduring improvement. This doesn't just benefit individuals but can advance communities and our nation — as evidenced in many Mitchell resources and, notably, 2017's Counting the costs of lost opportunity report.
We're looking forward to working with YAY as they expand to improve community connections with more young people across more of Australia. Connect with their team via Facebook, Instagram or Twitter.