Early childhood education research
We engage in research that values play, place and innovation and enriches the lives of children, families, the sector and the wider community.
Research areas
Research areas include:
playwork and loose parts play
innovation in early childhood placements children's agency
early childhood educators' images of their roles and work
early childhood experiences of trauma
design and development of excellence in mentoring in early childhood contexts
play and environment
making urban environments child friendly.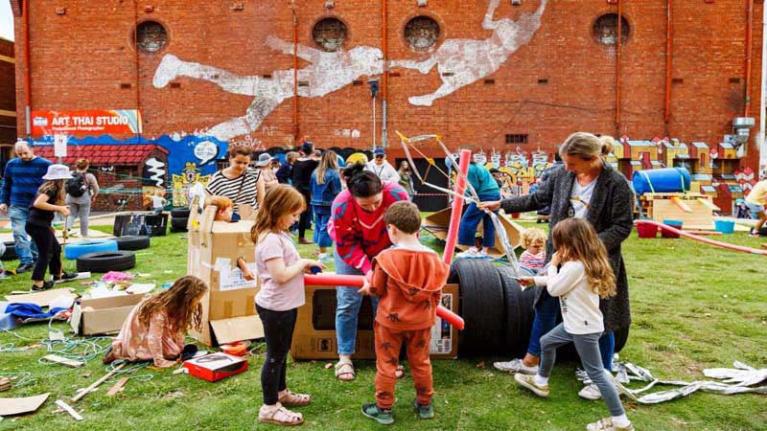 Research projects in early childhood
ECP3 project 
Victoria University has partnered with the Department of Education and Training and Goodstart Early Learning to deliver a program supporting pre-service teachers to complete their final professional placement in rural and regional areas of Victoria.
The project includes extra support for mentor teachers and pre-service teachers with the aim of improving the experience of placement and providing further training for mentors.
The findings of the research will inform the ways in which professional placements are delivered by VU in the future. 
Playwork
Pop-up play spaces in urban environments.
Maddern Square, V-You play, partnerships with local councils
We work in collaboration with local councils and private enterprise to provide pop up play spaces in urban environments. In 2021 we facilitated Mini Maddern, a Pop-Up play space in Footscray, in collaboration with Maribyrnong City Council and Public Realm Lab. We have our own Pop-Up play space at VU Nicholson campus.  
Remote Placements in Early Childhood at VU
In 2020, in response to COVID19, the early childhood team at VU developed an online (virtual) placement program to connect pre-service teachers with families and children. 
See more details about Early Childhood Education at Victoria University.
Mentions in the media
Early Childhood at VU in the Media
Staff & students
Read more about our research staff in their bios, via the links.
Sarah Jobson
Nathalie Nehma
Justine Walsh
Partners, funders & collaborators
Goodstart
Hume City Council *
Maribyrnong City Council
Public Realm Lab
State Government of Victoria, Department of Education
* Hume City Council - We have partnered with Hume City Council to offer their employees a well-supported and responsive offering of our Bachelor of Early Childhood. Diploma qualified educators working and living in Hume.
Partnerships with overseas universities
We have international research partnerships with Dublin City University, Ireland and Karlstad University, Sweden.