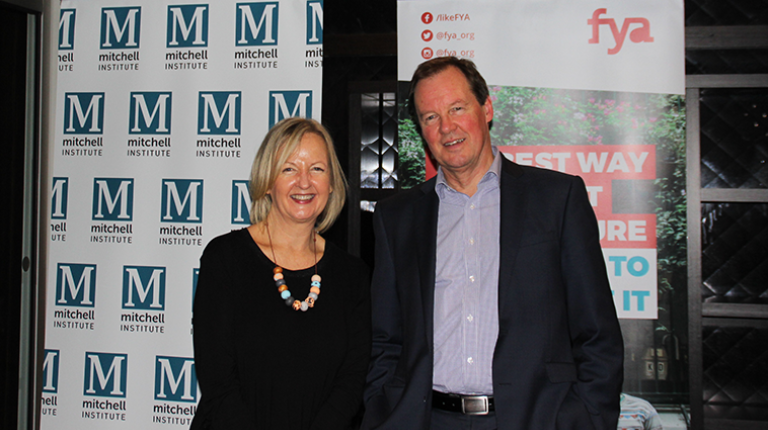 Professor Bill Lucas joined us for one week in March to continue the conversation on capabilities and preparing students for future success. With capabilities now being part of the Australian curriculum, Bill suggests it's time to move beyond why we need capabilities and start seriously considering how they will be taught and assessed in schools.
The Foundation for Young Australians joined us for Transforming education for the future of work, an event with Bill and FYA CEO Jan Owen AM on Wednesday 22 March. Young Australian entrepreneur, Jillian Kenny, led the discussion with Bill and Jan on what's ahead for young people when they enter the world of work and how schools can better prepare students for future careers. A live stream of the event is available on Periscope.
Bill visited Social Ventures Australia for a thought leadership gathering Equity, Excellence and Opportunity – The Core of Leadership for Impact to share insights on 21st century leadership delivering impact, particularly for low SES communities. Bill also met with the Victorian Department of Education and Training to provide advice on unpacking and assessing capabilities.
On Friday 24 March Bill travelled to Bendigo to present to local teachers, La Trobe University staff and businesses involved in the development of Bendigo Tech School. Bill provided advice on how capabilities can be taught and assessed in the new tech school.
On Monday 27 March, Bill joined us in Sydney for the launch of our new report Preparing young people for the future of work at Rooty Hill High School in Sydney's west. The report calls for a substantial shift in the current approach to school education. "Young people need to bring more than knowledge to the modern workforce. If you struggle to solve problems, collaborate or come up with new ideas, you won't fare well in today's or tomorrow's job markets", Professor Lucas said.
Bill's previous work on capabilities: