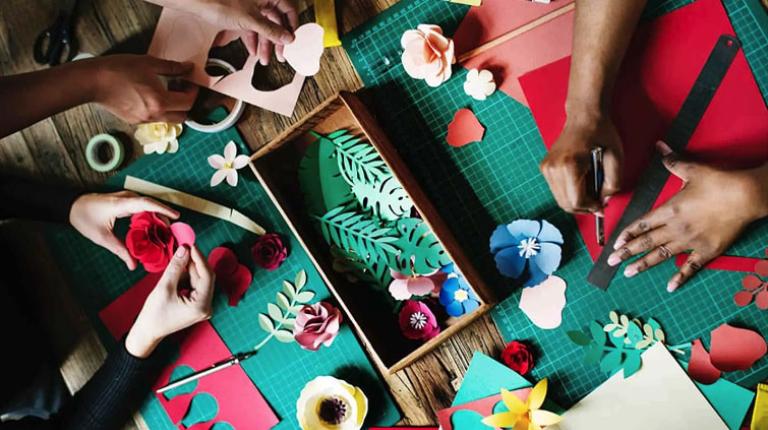 In 2008 the Melbourne Declaration suggested that, by the end of their schooling, all young Australians should become successful learners, confident and creative individuals as well as being active and informed citizens.
The general capabilities - critical and creative thinking, social and emotional capability, ethical understanding and intercultural understanding - were introduced into the Australian Curriculum as a way of turning this powerful vision into reality.
For parents and employers and teachers, the language of capabilities is still relatively unfamiliar. Parents associate school with subjects like English, maths, art and history.
Employers tend to think of education terms of skills, hard and soft. And teachers think about what appears on the timetable or in syllabuses associated with the learning areas, always with an eye on what is going to be required for end of stage tests and later examinations.
That said, teachers will also talk about education for the whole child or about character education, or, more recently, the broader idea of twenty-first century skills, all of which overlap with what the Australian curriculum calls capabilities.
Implementing a capabilities curriculum
Infographic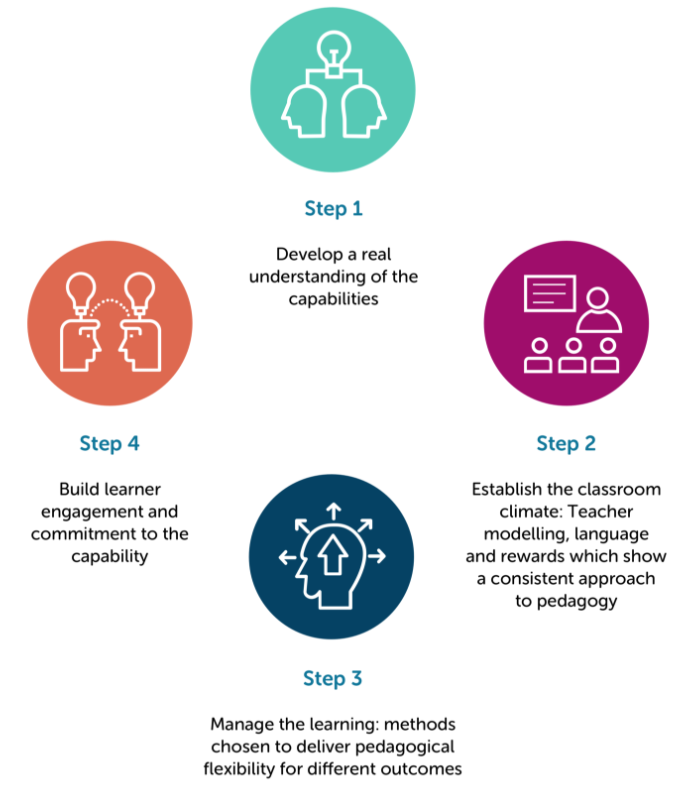 Infographic text alternative
Step 1: Develop a real understanding of the capabilities.
Step 2: Establish the classroom climate: Teacher modelling, language and rewards which show a consistent approach to pedagogy.
Step 3: Manage the learning: methods chosen to deliver pedagogical flexibility for different outcomes.
Step 4: Build learner engagement and commitment to the capability.
Curriculum & assessment
It's no longer a case as to whether capabilities need to be taught but very much a matter of how best this can be done.
Some key next steps will ensure that, as well as acquiring all-important knowledge and skills, young Australians emerge from your school system with the kinds of capabilities that will ensure that they rise to the challenges of today's tricky world.
If capabilities are really going to be embedded in busy schools there are a number of things that need to happen.
It's time to make a more compelling case for the value of capabilities to employers, parents and teachers drawing on the strong evidence that exists.
Capabilities need to be understood across the whole continuum from the early years to senior secondary and across both academic and vocational pathways.
The description of the capabilities is currently too complex and too wordy. It would help if descriptions could be simplified along the lines that the Victorian Curriculum and Assessment Authority has pioneered.
Good case studies from a range of schools will show how busy schools in a range of settings can achieve a blend of knowledge, skill and capability.
Teachers must be given time to work for high-quality professional development to adapt their practices.
Schools need clear guidance as to how the capabilities can be embedded in the curriculum.
Principals are key to the success of this changing emphasis. We need them to really understand and implement best practices in instructional leadership.
And all the while we need to be gathering evidence of what works best in terms of teaching, assessment and professional learning.
It's no longer a case as to whether capabilities need to be taught but very much a matter of how best this can be done. Implementing these eight steps should help teachers help students to become truly capable.
---
This article was original published by Education HQ. Read the original article, written by Professor Bill Lucas.