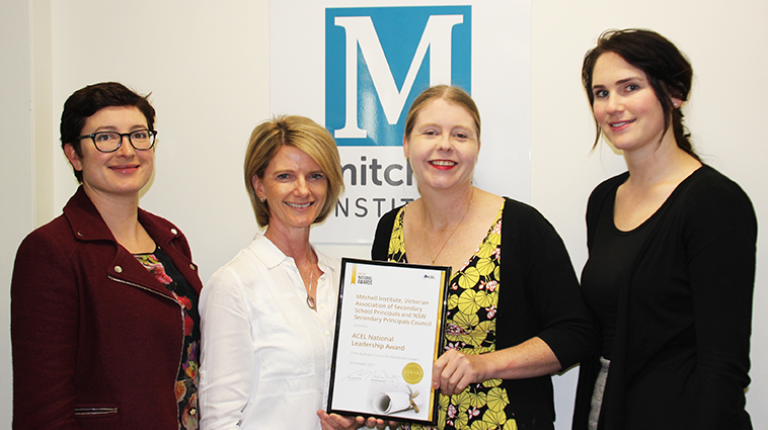 On Thursday 5 October 2017, Mitchell Institute, the Victorian Association of State Secondary Principals and New South Wales Secondary Principals Council received the ACEL Leadership Award for 2017 at the premier night of the ACEL National Conference that acknowledges educational leaders. 
The award was presented to Mitchell Institute, VASSP and NSWSPC for designing collaborative, powerful and innovative research informed learning for students from 21 secondary schools in Victoria and NSW. 
The evening was hosted by Christine Cawsey AM, an ACEL Board Member and Chair of the Awards Committee, and had recipients from New Voice Scholarships through to ACEL Fellowship Awards. Thank you to Stephen Gniel, President of ACEL, who presented the award, and Chris Presland, Wayne Perkins, and Dr Michelle Anderson, who received the reward on behalf of the project partners. 
"When we see projects like this happen, it refocuses us and we realise the power of what students can actually do. It brings to life what can happen."
- Chris Presland, NSWSPC President
"It was terrific to see the student work at the forum…It was also a highlight to see the students interacting across the two states – it is a rare opportunity for students to feel part of something as broad as this." 
- Judy Crowe, VASSP President
We are honoured to have received this award and look forward to sharing the final research report for The Paradigm Shifters: Entrepreneurial learning in schools in November 2017.