How do the major parties rate on Medicare? We asked 5 experts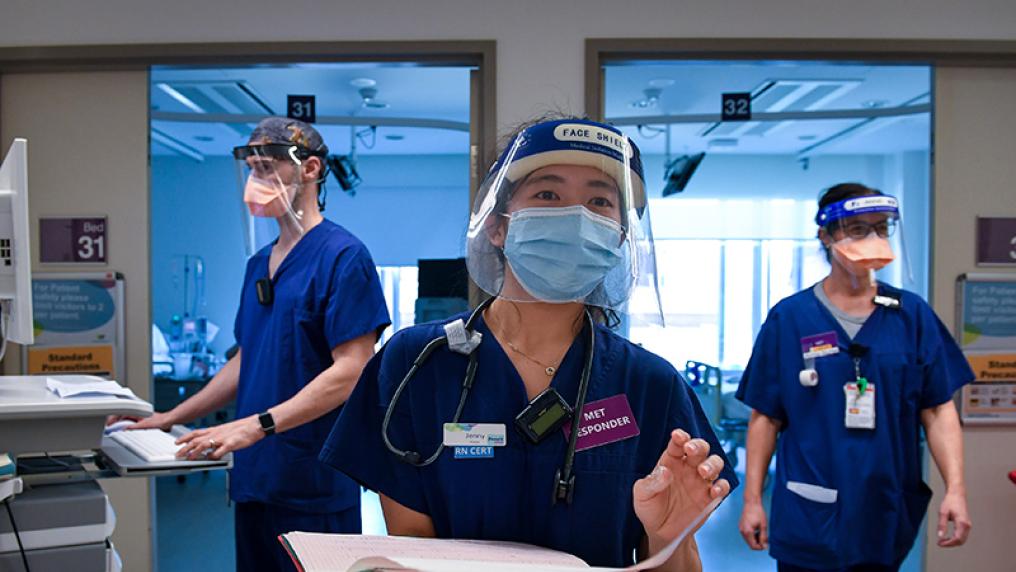 Medicare has been mentioned a lot, but we've seen relatively few substantial policy announcements. What have the major parties committed to?
Wednesday 4 May 2022
Medicare has been mentioned a lot this election campaign but we've seen relatively few substantial policy announcements from the major parties.
Voters want improvements to Medicare and the health system. More than 13% of respondents to The Conversation's #SetTheAgenda poll said health was one of the issues having the greatest impact on their life right now. Cost of living pressures were also a key concern.
As one respondent said, candidates should be talking about "increasing Medicare rebates to reduce gap payments" as they compete for votes, while another saw improving "rural and regional access to high quality care" as the key issue.
So what have the major parties committed to? And is this enough? We asked five experts to analyse and grade the major parties' Medicare policies – from A for top marks to F for a failed effort.
Coalition
Rosemary Calder, Grade C
C for 'steady as it goes'. The Coalition has committed to grow Medicare funding, including commitments in the 2022–23 budget to expand mental health care and make telehealth for GP consultations permanent.
It has commenced a much-needed focus on preventing avoidable illness with additional funding for vaccination, drug treatment and prevention, and diabetes support. This recognises that prevention of ill-health is as much the business of health care as treating illness.
But the Coalition is silent on addressing some of the big problems such as health workforce shortages and growing out-of-pocket costs, which aren't addressed by the continued growth of Medicare. High out-of-pocket costs act as a barrier to health care for those on low incomes with limited resources.
Historically, our health services were built to provide the best available care for traumatic injury, infectious diseases and single diseases. But today, our main health needs are for long-lasting chronic diseases (such as diabetes and heart disease), as well as pandemics. Our current health system is no longer fully fit for purpose – and this needs to be addressed.
Jim Gillespie, Grade E
The Liberal Party has a problem with Medicare. John Howard grudgingly accepted its reality in 1996, but as a 'safety net', and Labor's 2016 'Mediscare' campaign played on these memories .
This election, the Morrison government has tried to reshape the narrative by contrasting Coalition support for the Pharmaceutical Benefits Scheme (PBS) with the Gillard Labor government's disastrous attempt in 2011 to save money by delaying drug approvals .
Although PBS approvals are an apolitical, technical process, outgoing health minister Greg Hunt has claimed personal responsibility for new drugs joining the PBS, and has highlighted these listings in the Liberal party's campaign materials.
Rising out-of-pocket costs are a major issue for voters. Coalition promises include some ad hoc responses to cost pressures: reduced co-payments for PBS drugs and widening seniors' health care card eligibility. But there's no mention of the largest gap payments: specialists' out-of-hospital charges and dental fees.
Primary care (and in particular, general practice) has also disappeared as an election issue .
Lesley Russell, Grade F
The Coalition is apparently heading into this election betting its approach to Medicare over the past decade – and the provisions in the 2022–23 budget – are sufficient to support its 'rock solid' commitment to Medicare.
Its claims that Medicare funding is continuing to rise and Medicare bulk-billing rates are surging do not translate into more accessible, more affordable health care.
New Medicare items for telehealth – kept on after their introduction during the pandemic lockdowns – cannot substitute for needed primary care reforms. As the Primary Health Reform Steering Group concludes, the primary health care system is not 'fit for purpose'.
Egregiously, the Morrison government has not increased Medicare rebates to keep pace with the rising costs of inflation and delivering care, leading to increased out-of-pocket costs for patients.
Richard Norman, Grade C
The Liberal Party website lauds its Medicare achievements over recent years. These include high bulk-billing rates for GP visits and better access to telehealth.
In terms of future policy, information is more scarce, both in terms of the number of proposals and the detail about those presented.
The A$66 million to extend Medicare rebates to magnetic resonance imaging (MRI) machines in regional and remote locations is positive and will help with geographical inequity.
The commitment for Medicare support of genetic testing for couples planning pregnancy is overdue, and much needed.
The recent budget papers suggest a proposed steady increase in Medicare investment over coming years. But in real terms, it's more modest.
What the Coalition lacks is a clear description of the structural changes to Medicare that will help address an ageing population with increasingly complex health needs.
Stephen Duckett, Grade F
To date, the election policies of both parties are most noteworthy for what is not there, rather than what is there. Neither side has mentioned the elephant in the room – the continuing COVID pandemic. Twice as many COVID deaths  have occurred so far in 2022 (4,804) than in 2020 and 2021 combined (2,239). More than 3,000 people are in hospital because of COVID.
The Coalition hopes the pandemic will all go away, and that voters will forget the slow vaccine rollout that gave Australia its 2021 word of the year – strollout . The COVID gap warrants an F for the Coalition.
Specifically for Medicare, the Coalition has promised  new items for genetic testing. It has also promised more subsidised MRI machines but doesn't guarantee all these patients will be bulk-billed.
The signature Coalition health policy so far is part of its 'cost of living' theme – a reduction in the PBS co-payment by A$10 per script (though not for pensioners and concession card holders). This is a major readjustment which will benefit many. But it may not lead to as much in savings as the headline reduction suggests, as the big price-discounting chains were already offering discounts  and their scope to do so in the future will be reduced under the new co-payment threshold.
A better policy would have been to increase the number of tablets on each prescription .
Labor
Rosemary Calder, Grade B
B for new and responsive health service capacity, with its Medicare urgent care centres. Fifty centres around the country will offer walk-in, bulk-billed appointments for time-sensitive issues that aren't life-threatening.
However, 50 urgent care centres is too few for the many communities across Australia that have fewer resources, poorer health and poorer access to a comprehensive range of health services.
There is a growing divide in Australia. Lower-income communities have higher rates of preventable chronic diseases and lower life expectancy. This is particularly so for older industrial suburbs, outer-metropolitan areas, regional, rural, and Indigenous communities. Those same communities commonly have fewer GP and specialist services, and more distant access to hospitals and emergency services. They use less Medicare funding than those in the wealthiest suburbs in our nation.
Labor has committed to investing in the urgent need for more GPs by changing the rules to make it easier to recruit doctors to regional and outer-metro areas. But systemic changes are needed so that primary care is able to function well as a health service (and not just as a small business providing health services).
Jim Gillespie, Grade C
Labor has continued to claim ownership of Medicare, with the declaration  'Labor built Medicare and we will always protect it'. However, Labor's small target approach has meant echoing Coalition initiatives.
Labor matched the Coalition's plan to extend seniors' health care card coverage for those with an income of A$90,000, up from just under A$58,000. And Labor went further than the Coalition's policy cut to co-payments for PBS prescriptions (A$12.50 for Labor, A$10 for the Coalition).
Labor's promises avoid the ambitious scope of its 2019 election campaign. Primary care policies include a pilot of 50 Medicare urgent care clinics, linking general practice with emergency care. Based on a successful New Zealand model , it is unclear how clinics will mesh with an overstretched, underfunded system.
However, some commitments suggest greater ambitions in office. A national Centre for Disease Control is promised , for example, but with no details.
Party differences are strongest in their workforce plans. Labor promises a major increase in the Indigenous health workforce, a National Nurse and Midwife Health Service, and the provision of 24-hour registered nurses in residential aged care, which recognises aged care as an integral part of the health system.
Lesley Russell, Grade C
Labor's urgent care clinics will potentially provide a short-term fix to relieving the pressures on hospital emergency departments. But the policy lacks detail, including how costs will be covered if bulk-billing is mandated.
Labor has also committed to reinstate the 50% loading for psychiatry videoconference consultations in regional and rural Australia, which supports the bulk-billing of these services. This policy was recently abolished by the Morrison government.
To date, this is an inadequate set of election policies for a party that claims to build and protect Medicare .
Labor's focus on boosting the health-care workforce , including Aboriginal health workers , is to be commended. It recognises the right workforce in the right locations is a critical factor for the optimal delivery of Medicare services.
Labor policies in areas such as homelessness and safer, more affordable housing (issues that are key social determinants of health ) will improve population health and lessen the demand for health care services, thus boosting the sustainability of Medicare
Richard Norman, Grade B
The Labor website emphasises access and staffing issues, which it will seek to address if it forms government. As the party that started Medicare, it wants to convince voters it's the trustworthy option for Medicare's future.
As with the Liberal party proposals, larger systemic reforms are unfortunately not a central part of Labor's proposals.
Labor's promise to implement bulk-billed urgent care clinics, costing A$135 million over four years, is good and could redirect urgent but not life-threatening conditions away from our over-worked hospitals.
International evidence on urgent care services is generally positive. The question is how they are integrated into existing infrastructure to maximise uptake, and how such services are explained to encourage people to use them.
Reinstating the 50% regional loading for telehealth psychiatric appointments also appears to be sensible policy, given the particularly high mental health burden in rural and remote areas.
The Labor policy also discusses loosening regulation on the recruitment of GPs into regional and outer metropolitan areas. With few details available, it's difficult to judge its effectiveness, but a policy which improves supply of staff into these regions would be welcome.
Stephen Duckett, Grade F
The absence of any policies to address the ongoing impact of COVID warrants an F overall for Labor.
Presumably Labor is worried that if it mentions COVID, it will be attacked as wanting to destroy freedom and reinstate lockdowns. Yet COVID needs to be acknowledged and managed. The care deficit of people waiting for care, and exhausted hospital staff, need to be addressed. Lessons from the progress of the pandemic so far must be identified. Business as usual is not good enough.
Labor has released two highly targeted Medicare-related policies to date.
The first promise is to reinstate a 50% regional loading for telehealth psychiatry . This is designed to increase bulk-billed telepsychiatry consultations in rural and remote Australia. This is a sensible policy which will improve access. The loading existed during the lockdown phase of the pandemic but was discontinued by the Coalition.
Labor's second Medicare-related policy is to fund at least 50 Medicare urgent care clinics across Australia, as part of a trial of a new model of care.
This is a small policy, probably about A$50 million a year when fully operational. It's aimed at reducing ongoing pressure on hospital emergency departments by beefing up general practices or community health centres to deal with minor emergencies. Labor has committed to evaluate the impact of the centres, hence the 'trial' designation.
Labor leader Anthony Albanese's policy launch included a A$12.50 reduction in the Pharmaceutical Benefits Scheme co-payment – bigger than the Coalition's A$10 reduction but with the same weakness that it may lead to fewer discounts being available.
---
This article is republished from The Conversation under a Creative Commons license. Read the original article .