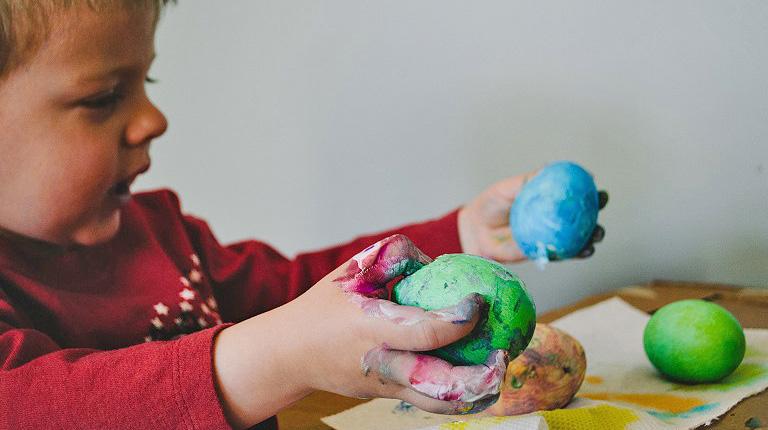 After the release of a landmark report into persistent gaps in educational opportunity, Mitchell Institute Director Sara Glover argues we need to prioritise creativity and resilience for all students.
We know that many young people are not well served by the current education system. The consequence is a widening gap in the life chances between those who have the opportunities to develop essential capabilities and those who don't.
I've long been a champion of developing learning that is more engaging, and develops creative, resilient and capable learners. But we have little evidence of whether Australia is achieving this.
What is well known, and confirmed again through the Mitchell educational opportunity report, is that we have persistent patterns of system failure that remain, despite two decades of increasing investment in schooling.
Converging opinion that creativity is important
Australia is on the cusp of a new but very different industrial revolution - rapid changes in technology are already reshaping the nature of work and the workforce.
There's widespread concern about the fallout from a change in our economy, and the disappearance of what are traditionally called 'low-skilled jobs', especially for those who emerge from education without broader capabilities.
A broader set of capabilities and the so-called 'soft skills' are essential to meet contemporary and future challenges.
Without any change in approach, demographer Bernard Salt identifies five million Australian jobs that are vulnerable over the next 10–15 years.
Jennifer Westacott, Chief Executive from the Business Council of Australia, made it clear that 'we are moving to a world where the capacity of individuals to create and innovate will be the difference between success and failure.'
In this changing environment there's a need to maximise diverse talents and build individuals' capabilities to be flexible, adaptable and resilient. We can't afford to continue letting down over a quarter of young Australians, who at age 24 are not fully engaged in work, education or training.
Literacy and numeracy skills aren't enough
Literacy and numeracy provide essential foundations for seizing the opportunities for further learning. But these foundations are no longer sufficient - they are a starting point, not the end point, of education.
Global education expert and Mitchell Professorial Fellow Yong Zhao calls for a transformation in the way that education is structured, in line with the transformation already well underway in the economy. In his book World Class Learners he writes: 'Globalisation has transformed industry and fundamentally changed jobs and employment, demanding people with greater creativity, resilience, and with entrepreneurial skills and global competency.'
'Yet almost all of the current efforts to reform education are focused on "fixing" the past systems rather than inventing the future. We need to invest in inventing the future.'
Creative capabilities - what's the current state of play?
Nations across the globe are attempting to develop different kinds of education, and are expanding the definitions of education beyond academic performance in narrow sets of subjects.
A recent OECD report on the importance of social and emotional development, which suggests a broader set of capabilities and the so-called 'soft skills' are essential to meet contemporary and future challenges.
In Australia, it is left to chance whether children have the opportunity to develop these important capabilities - which education writers Guy Claxton and Bill Lucas refer to as the seven Cs: confidence, curiosity, collaboration, communication, creativity, commitment and craftsmanship.
Curiosity and creativity are active ingredients of learning in the early years, but as young people progress through secondary school this falls away as the priority moves to preparing students for standardised and international testing and tertiary entry.
We have experienced is a narrowing of focus on measures of literacy and numeracy, which are essential but far from sufficient.
The 'Gonski' review into school funding suggests a need to develop confident and creative individuals and active and informed citizens. And the 2008 Melbourne Declaration of Educational Goals of Young People commits to a school system in which all young Australians become 'successful learners, confident and creative individuals, and active and informed citizens'. However, the breadth and intention of these goals has had limited visibility at the system, school or classroom level.
Instead, what we have experienced is a narrowing of focus on measures of literacy and numeracy, which are essential but far from sufficient, and the reduction of thirteen years of schooling to a single tertiary entry score.
Promising signs are emerging
Some schools have already embarked on the journey to have a capability-driven curriculum, and policy-makers, curriculum and assessment designers and school leaders have creativity clearly in their sights.
It's exciting to see the Victorian state government embracing creativity as it attempts to transform itself into the Education State. Another important step is the shift in language at the federal level. In his first speech as prime minister, Malcolm Turnbull heralded creativity as an important part of his government's innovation agenda.
The challenge for us is to make the opportunities available for every child to ensure they're all part of an exciting future. 
---
This article was first published on the ABC Splash education website. 
* The author acknowledges the contributions of Dr Michelle Anderson, Professor Bill Lucas, Teya Dusseldorp and Jo Taylor.
Image credit: Flickr