Cancer, Autoimmunity, Immunology
Part of VU's Mechanisms and Interventions in Health and Disease group, the Cancer, Autoimmunity, Immunology focus area has the subgroups Cancer Biology and Metastasis, Enteric Neuropathy, Immunology and Translational.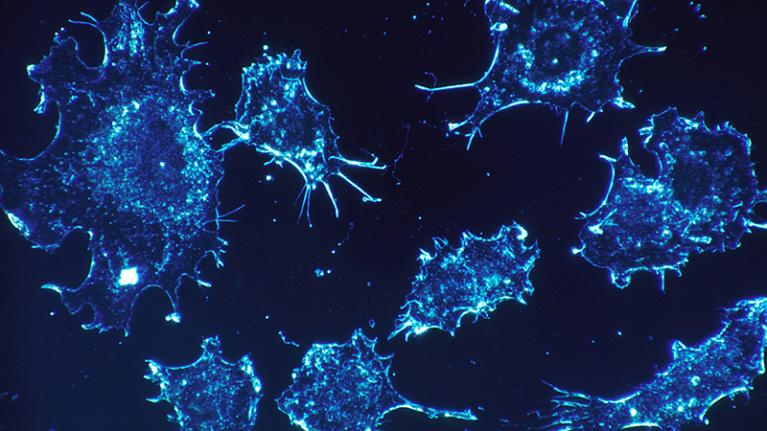 Cancer Biology & Metastasis
Cancer is the leading disease burden in Australia.
The primary cause of cancer death and mortality is the spread of the cancer to secondary sites/organs, a process termed 'metastasis'. Knowledge of the molecular mechanisms of metastasis is limited, and current therapies are ineffective. No cure for metastatic cancer exists.
Disease/dysfunction areas:
breast
renal
melanoma
prostate
lung cancers.
Aims
The overarching aims for the group are:
to define essential molecular mediators and mechanisms of metastasis
to identify and/or design drugs to block the actions of these molecules, upon which metastatic cancer cells rely for their activity, growth and survival.
Our expertise
We use combined expertise in the following areas:
advanced animal imaging approaches
biomarker discovery in cancer patient materials
cell and molecular biology
gene expression/bioinformatics analysis
in vivo models of metastasis
peptide-based drug design
protein biochemistry.
Our team
Staff
Research students
Jack Bolton
Tabitha Creek
Charlett Giuliani
Joseph Polidano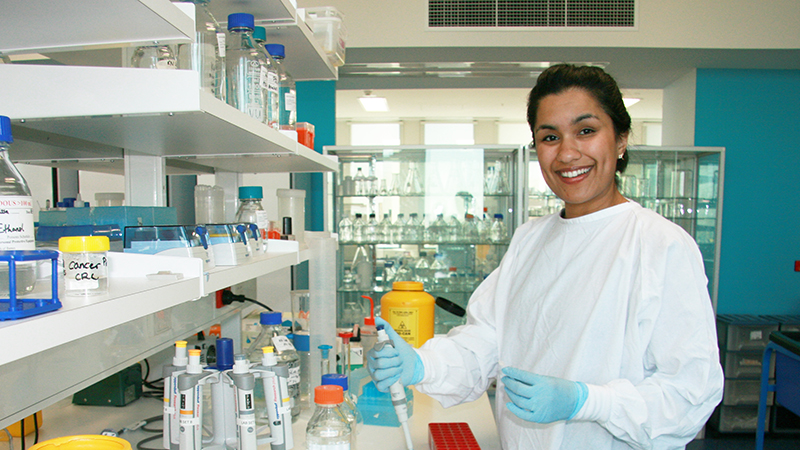 Enteric Neuropathy
The Enteric Neuropathy group focuses on the development of new therapies for enteric neuropathy associated with inflammatory bowel disease, colorectal cancer, and side-effects of anti-cancer chemotherapy.
Mental-health research associated with the gut–brain axis is also a focus of the group.
The research philosophy is to translate scientific discoveries of basic science research (bench) into novel therapies for human disease (bedside).
Disease/dysfunction areas:
inflammatory bowel disease
inflammation induced cancer
mental health
colorectal cancer
inflammation induced osteosarcopenia.
Research topics
Our research involves a range of topics, including:
enteric neuropathy as a target to alleviate gastrointestinal side-effects of chemotherapy
inflammation-induced cancer: mechanisms and novel treatments
inflammation-induced osteosarcopenia: mechanisms and novel treatments
inflammatory bowel disease: novel molecular targets for development of effective therapies
mesenchymal stem cell-based therapies for inflammatory bowel disease and coloctoral cancer
methamphetamine-induced depression: mechanisms and novel treatments
role of the nervous system in cancer development and progression.
Our team
Staff
Research students
Elizabeth Donald
Jack Feehan
Rhiannon Filippone
Swati Garg
Elif Kadife
Abilasha Gayani Jayathilake
Ramya Juyothi
Marco Papageorgiou
Ainsley Robinson
Rhian Gordon Stavely
Shilpa Sharm
Immunology & Translational Research
The immune system plays a major role in health and disease. Understanding the cellular, molecular and functional changes to the immune system in chronic diseases will lead to their prevention, treatment and management strategies.
As well as researching immune-system changes, our group is involved in drug design and vaccine formulations for chronic diseases – in pre-clinical models, clinical research and translational focus.
Disease/dysfunction areas:
cancer
autoimmunity
metabolic disorders
mental health
Our expertise
Although our core discipline is immunology, we have a multi-disciplinary focus that includes:
biochemistry
bioinformatics
cell biology
clinical research
drug development
exercise immunology
medicinal chemistry
molecular biology
nutrition research
structural biology (crystallography, NMR, molecular modelling)
translational research.
Our team
Staff
Research students
Maria Adamopoulou
Christopher Apostolou
Narges Dargahi
Elizabeth Donald
Jack Feehan
Rhian non Filiponne
Swati Garg
Manpreet Grewal
Ram ya Sindhoora Juyothi
Antonio Lagana
Kathleen Mikkelsen
Marco Papageorgou
Supa Pudkasam
Tawar Qaradakhi
Kristina Vingrys