Performance Nutrition study
In collaboration with the Defence Science Technology Group (DSTG) of the Department of Defence, Victoria University has received funding to conduct the study entitled: 'The effects of post-exercise carbohydrate availability on skeletal muscle and whole-body adaptations to endurance exercise training in moderately-trained males'.
This study is part of a wider body of research around 'Performance Nutrition', investigating nutritional strategies to enhance endurance training adaptations.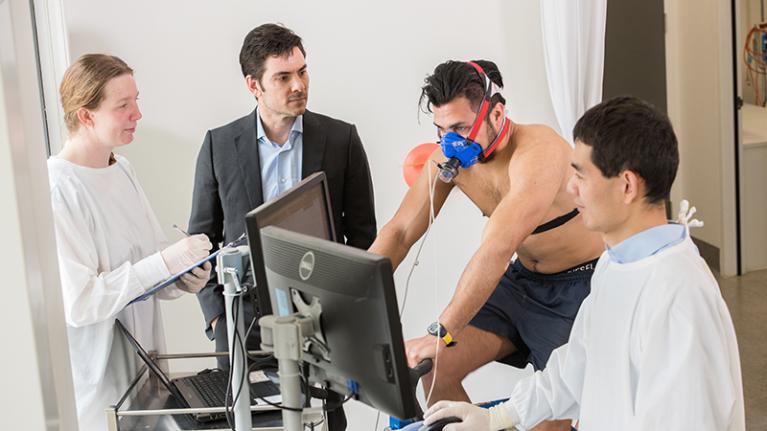 About the project
Carbohydrates are the muscles' preferred energy source to fuel high-intensity exercise.
Nutritional strategies that maximise carbohydrate availability before, during, and after exercise are widely encouraged to meet the demands of exercise, to maximise performance, and to replenish muscle carbohydrate stores (known as glycogen).
However, growing evidence suggests that training with restricted carbohydrate availability can enhance the acute, post-exercise molecular signals within muscle cells that promote endurance adaptations.
To achieve the 'best of both worlds', this project will explore the efficacy of consuming enough carbohydrates over 24 hours to support recovery and replenish muscle glycogen, while acutely restricting the timing of intake after exercise for a short duration (3 hours) to provide an opportunity to maximise the signals for adaptation.
This study, led by Dr Matt Lee and Professor David Bishop, will explore how consuming or restricting carbohydrates over a short recovery period (3 hours) after exercise affects the adaptations to 8 weeks of endurance training. Specifically, they will investigate the effects on:
exercise performance
aerobic fitness (i.e., maximal aerobic capacity)
body composition
molecular processes within skeletal muscle that promote adaptation.
This study will generate important new scientific knowledge that can help exercise scientists answer longstanding questions of interest about the best post-exercise nutrition strategies to improve training adaptations. These findings can be translated into recommendations and guidelines for nutrition to better support adaptations to training.
Participate in the study
Recruitment for this study is now underway.
We are looking for men who meet the following selection criteria:
18 to 45 years old (if you are over 40, you will be required to obtain a medical certificate from a GP or medical practitioner, clearing you for participation in this study).
Healthy i.e., non-smoker, free from pre-existing medical conditions (e.g., heart rhythm disturbance, elevated blood pressure, diabetes, cardiovascular abnormalities, respiratory conditions, and musculoskeletal injuries).
Moderately-active i.e., currently exercising 2-3 hours per week of moderate-to-high intensity exercise, not currently participating in any elite-level sporting competitions.
Further target inclusion criteria, which can be determined in the lab during initial testing, include:
Body Fat %: ≤ 24 %
BMI: < 30 g/m2
Aerobic capacity (VO2peak): ≥ 40 mL/kg/min
20km cycling time trial: approx. 40 min or less
Benefits of participating
While we cannot guarantee that you will gain any benefits from participating in this study, as a participant, you will receive:
high-quality exercise training supervised by exercise science researchers, in a state-of-the-art research facility
free training that may improve various aspects of your health and fitness
potentially valuable information regarding your aerobic fitness
an individualised report on your potential fitness improvements on completing the training period
some meals on the training days
a reimbursement of $200 for participating in the study in the form of an e-voucher, which will be given to you in instalments ($100 e-voucher upon completing the first 4-weeks of training, and a $100 e-voucher upon completing the study).
What participants are required to do
The time commitment for this study will be approximately 49 visits over approximately 12 weeks, which include the following phases.
Initial screening & pre-training tests (each separated by ≥24-48 h):
2 × graded incremental exercise tests (~ 60-90 min per visit)
2 × 40-min endurance tests with repeated sprint tests (~ 60-90 min per visit)
2 × DXA body composition scans (~10-15 min per visit)
1 × ramped exercise test (~ 30-40 min per visit)
venous blood samples: taken from the forearm at rest and during the exercise tests to measure blood lactate and other metabolites
resting muscle biopsies: sampled from the mid-thigh, before and after 8 weeks of training [~ 40 min per visit].
8-week endurance training program: performed on stationary exercise bike 3-4 mornings per week, involving a combination of:
high-intensity interval training (HIIT)
sprint interval training (SIT), or
moderate intensity continuous training (MICT) sessions
8-week nutrition intervention: you will be randomised into one of two groups and after each exercise training session you will receive either a carbohydrate beverage or flavoured placebo.
You will be required to remain in the lab during the first 3h period after your training sessions so we can strictly control your nutritional intake in this period. You will be allowed to work/read/rest/watch TV on your personal devices during this period. If space is required to attend virtual classes/meetings, space will be made for you.
On these training days, a pre-exercise meal will also be provided to you by the research team, to consume at home before you arrive.
Post-training tests (each separated by ≥24-48 h):
2 × graded incremental exercise tests (~ 60-90 min per visit)
2 × 40-min endurance tests with repeated sprint tests (~ 60-90 min per visit)
2 × DXA body composition scans (~10-15 min per visit)
1 × ramped exercise test (~ 30-40 min per visit)