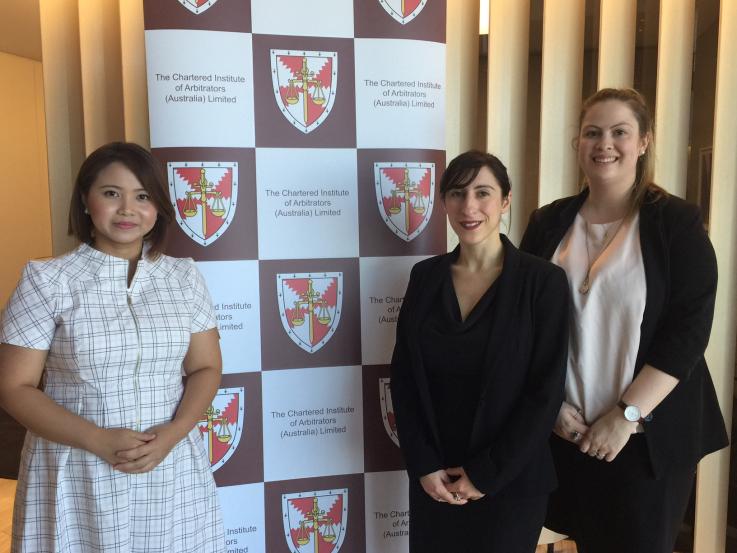 VU's mooting team recently added international success to its 2017 accolades.
Victoria University's mooting team attended the prestigious Willem C. Vis International Commercial Arbitration Moot in Europe in April, achieving runner-up status in both the pre-moot and its individual event.
Team members Katrinka Barrett, Lucienne Galea and Joshua Gibson participated, along with their lecturer and coach Vivi Tan.
Preparing for international competition
Preparations began six months prior to the event, including the team's entry in its first formal national mooting competition, the CIArb Australian Vis pre-moot. At the event, the team was ranked the highest national-scoring team, securing a place in the semi-finals.
Following this confidence-building result, the team made its way to Vienna to participate in the Willem C. Vis Moot – the world's largest and most prestigious private international law competition.
Just prior to the Willem C. Vis Moot, the team participated in the inaugural Plesner Pre-Moot in Copenhagen, where they placed runner-up. Katrinka Barrett also placed second in the best oralist category with Lucienne Galea coming a close third.
Both pre-moots were an opportunity for students to hone their advocacy skills and to see how teams from around the world interpreted and approached the task. The students were also exposed to different judging styles, an opportunity to better prepare for the main event.
Victoria University's mooting program
VU places a strong emphasis on practical learning, with the College of Law and Justice facilitating many hands-on programs, including mooting and student placements and internships.
"VU offers me invaluable study opportunities to help develop and shape my practical legal skills, including legal reasoning, legal research skills and analytical and problem-solving skills. These skills will better equip me for my legal career and beyond," said participant Katrinka Barrett.
Lecturer Vivi Tan said that opportunities such as these provide our law students with a great advantage for a future in the legal profession.
"The students were privileged to meet some of the greatest minds in international arbitration. They received feedback from international academics, lawyers and arbitrators. All of our ex Vis-mooters have had very successful legal careers, and they continue to contribute to the community of mooting at the College," Ms Tan said.