Smart electronic systems research
We are interested in developing new technologies that combine sensors, telecommunications and smart control algorithms to meet the ongoing requirements of the national and global industry in this information age.
Areas of research
Sensors
Current research is conducted in the areas of:
Carbon nanoparticle sensors
Enhancing optical fibre sensors
Sensor fusion algorithms
Research projects:
Development of portable detection systems that use biocompatible carbon quantum dots and their bio-conjugation for real-time bio-imaging of cells. Applications in this area include focused areas of cell biology such as early detection of inflammation and cancer.
Development of wearable flexible sensors based on nanoparticles that can be used to measure biomechanical parameters of human movement such as joint angles. The application area includes healthy aging and manual handling.
Development of techniques that use rare-earth-doped optical fibres for sensing. This work is enabled by the silica optical fibre fabrication facilities at UNSW with VU as a partner (funded by an ARC LIEF grant). Applications in biosciences and health of optical techniques include imaging using the microscope and new applications of optical fibre sensors; e.g. imaging of single muscle fibres and the assessment of compression garments.
Development of machine learning algorithms for movement prediction in wearable assistive technologies (funded by ARC Discovery Project).
Telecommunications
Research is concentrated into the area of wireless systems and related applications:
Air interface research, which involves the measurement and modelling of the radio channel and then the development of modulation schemes and algorithms to exploit or overcome the resulting channel characteristics.
Intrabody communications, which involves the transmission of electrical signals through human tissue and the human body.
Investigation of interaction of electromagnetic fields with the human body, tissues and cells.
Research projects:
Body area communications involve portable sensors for measuring physical activity and human movement.
Frequency flexible circuits, including removal of switched filters from wireless handsets, and which requires close collaboration with our microelectronics capabilities.
Cognitive radio, which means dynamic and opportunistic access to unused spectrum. Previously this research involved TV band modems but now includes femtocell systems (i.e. very small area wireless systems).
Emerging techniques in wireless Intrabody and implant communications.
Automatic Control & Applications
Research is concentrated into the area of developing and applying innovative control techniques and technologies to real industry problems.
Drone control, which involves the study and analysis of the the dynamic performance of the quadrotor helicopter via modelling and controller design to control the movement of the system.
Advanced and Intelligent control, which involves the design of advanced and intelligent controllers to control systems such as magnetic bearing system, flexible link system, ball and beam system and inverted pendulum system.
Research projects:
Automatic Control of a Magnetic Bearing System involves system modelling and advanced controller design for high performance magnetic bearing system stabilisation.
Modelling and Control of a QBall Quadrotor Helicopter involves system modelling and controller design to solve trajectory tracking problem of the Qball system.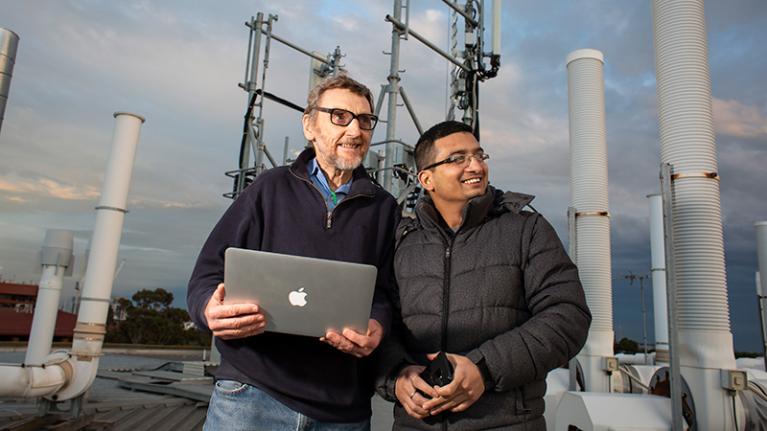 Research publications
Members of the Smart Electronic Systems Research Unit continue to publish their work in a broad range of scholarly journals and in proceedings of international learned conferences.
Researchers
Find out about our researchers, and access their biographies via the links.