The Write Out, held at the University's
Werribee Campus
on Saturday 17 July, drew a huge crowd of seventy-five - a full house of writers.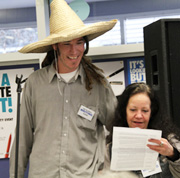 Professional Writing and Editing Teacher Margaret McCarthy said the event was a great success in "bringing people together to experience an enjoyable collaborative writing experience ... Our own teachers ran the events, some humorous and some more thought provoking. The events were 15 minutes apart - there was no time for revising, deleting, or careful crafting. The idea was to have fun with your writing and push through."
The event, designed for all levels of writers - from published wordsmiths to beginners, included writing sprints designed by writing teachers from Creative Industries Short Courses and the Diploma of Professional Writing and Editing. There were door prizes - a short course voucher and two books. Participants wrote on their laptops or with notepads and pens. The event was free and open to all.
One participant said, "it got me writing, really moving, in more than I have in years".
Following on from the success, another Write Out event is being planned for later in the year.
Contact us