Wednesday 2 September 2009
Organisations attending were highly focused on recruitment of Victoria University's accounting students for Work Integrated Learning year-long programs for 2010 recognising the importance of Learning in the Workplace to Victoria University's students.
Accounting firms attending included Victoria University long-term partner and awards sponsor BSA Partners and Grant Thornton as well as a range of public, private manufacturing and service firms, including Australia Post, GM Holden, BAE Systems, Dunn and Bradstreet and Unified Healthcare.
All were keen to see VU's accounting students present themselves as potential "Co-op" employees and to assist with general career advice. Grant Thornton were also recruiting for Vacation Programs running from December 2009.
Employer feedback on the event was strong, "Expo structure was great!" (BAE Systems Australia), "Well organised event!" (GM Holden) and were happy with the way students presented and the questions asked.
The event attracted more than 160 students including a number from postgraduate courses. Students found the experience helpful in building their awareness and understanding of the profession and prospective career paths, and for the specific information about numerous (more than 20) current accounting Co-op and Vacation positions for 2010.
Sarah (an accounting student) stated the event was: "really useful … a great opportunity to meet people".
Other students commented that the Expo was:
"great and have already followed up on all companies. (I) have 5 interviews already and hopefully more. Holden called me already for an interview. I feel very positive… we got a lot out of the day." (Laura),
"very good and have leads and now positive about potential … employers were talking to everyone. It made me feel I have a chance now. Friends got a lot also." (Morris)
"useful and relevant and have initiated a lot of leads to apply for coop employment. Met other Russian students and made new friends with similar backgrounds." (Constantine)
Specifically re-GM Holden positions: "they made it really easy to apply." (Milos, Ercan, Bobby and Constantine).
Exhibiting organisation numbers were down on 2008 as many firms who had regularly attended similar events in prior years, (eg Ernst & Young), were unable to confirm Co-op or Vacation positions for 2010 or had limited resources to commit to the Expo in the current economic climate.
Remarkably however, student attendance increased by 25%. Centre Manager, Barry Broons, attributed this to the re-location of the event to Footscray Park Campus and the concentration on a single specialisation/discipline for the first time.
As in recent years, the Expo was advertised widely and via a range of traditional communication channels, including in-class announcements, Victoria University's events' website, posters and fliers, and via "new media" such as Facebook and SMS messages.
Accounting Work Integrated Learning Student of the Year, Andrea Tori gave an excellent speech to conclude the event, remarking:
"It was an absolute pleasure to come along today and share some wisdom. Thank you for the opportunity.
Also, thank you to the Work Integrated Learning team for allowing students to participate in such an amazing opportunity to broaden our careers. It has certainly changed my future."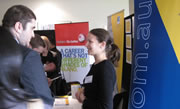 Expo exhibitor
For further details, please contact:
Barry Broons
Manager, Centre for Work Integrated Learning
Phone: +61 3 9919 4546
Email:

[email protected]