Victoria University teacher Greg Gordon hopes Victoria's native animals won't need him much this bushfire season.
Greg is an animal technician lecturer at VU's Werribee Campus in the School of Sport and Science and also volunteers as regional coordinator of Wildlife Victoria, an organisation that provides 24-hour wildlife rescue and information. He helped save dozens of kangaroos, wombats, koalas, birds and possums during the state's worst bushfires that culminated in Black Saturday a year ago.
Unfortunately, for many of them it was too late, and attempted rescues turned into mercy killing.
"By the time we were escorted in to some areas, many animals were already goners and all we could do was put them down," he said. "We saw bats and possums falling out of trees."
The six-month TAFE course, The Husbandry and Rehabilitation of Wildlife, was developed in partnership with Wildlife Victoria. It can also be studied on-line and has been completed by people from across Australia who are involved in wildlife rescue and rehabilitation as a career or as volunteers.
"We give them the basics of rescuing, handling, transporting and animal first-aid," he said. "Since the bushfires, there is a high demand for the course and we have people on the waiting list."
The course forms part of larger programs for VU's vet nurses and animal technician students.
Greg has been bitten, scratched and kicked by a variety of frightened animals over the years, but he remains passionate about helping them.
"We have an ethical responsibility to help stricken animals, especially those who are injured as a direct consequence of human development," he said.
Greg is well known in the wildlife rescue community and uses his networks in organisations such as the RSPCA, Wildlife Victoria and animal shelters to secure practical work experience for VU students.
In future, VU expects to treat more wildlife at a new vet clinic soon to open at its Werribee Campus.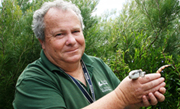 Greg Gordon with lizard