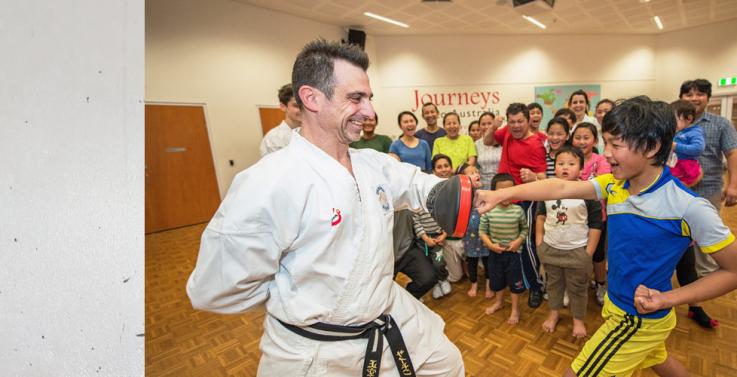 Local sports clubs are opening their doors to Karen refugees to encourage physical activity and community involvement.
Victoria University PhD researcher Tea O'Driscoll said the local Karen community had led very active lifestyles in their Burmese (Myanmar) homeland, but many stopped playing sports since migrating to Australia.
"My research suggests a major reason for this is that structured exercise here looks very different to the casual and incidental nature of community sports back home," she said.
"Here it's more organised, more competition based and altogether a bit more daunting for this community to get involved in."
Her hands-on intervention program will engage families and show parents how to be active with their children through play based sports activities. The program, which was designed together with Karen community members and leaders, takes place from August to October at the Laverton Community Hub in Melbourne's west.
"The aim is to demystify how to be active with communities and families here in Australia, and engage their passions in local activities and community centre programs," Ms O'Driscoll said. "As this community is also very family-orientated we've made it as welcoming as possible to all ages so that families can get involved together."
Local sporting clubs are now being invited to volunteer by helping deliver a 1-hour activity on Saturday over the next two months for the project, with Samurai Karate in Laverton the first to do so.
Samurai Karate Laverton chief instructor Simon Hunt said he hoped the introductory class would demonstrate how karate is for young and old, with a wide range of physical and mental health benefits.
"I believe this project is important as all community members should have the opportunity to try a variety of different activities for health and well being," he said.
Ms O'Driscoll said the enthusiasm from the dozens of Karen community members who'd joined the program has been inspiring.
"The most satisfying thing for me is to see this project come to fruition and the smiles of those who really appreciate that something like this is happening for them and their children," she said. "We hope they'll see the value in being more active with their children and in joining more into the community through sport and physical activity, whether that means joining a local club or simply going down to the park with the family and being able to create active play."
Ms O'Driscoll is conducting this project as part of her PhD at Victoria University's College of Sport & Exercise Science under the supervision of Professor Remco Polman, Dr Erika Borkoles and Dr Lauren Banting.
Funding for this project was provided by South Western Melbourne Medicare Local's Laverton Community Health and Wellbeing grants, and venue facilities made available through Hobsons Bay City Council.
For more information or to volunteer your sports club for the project contact Tea O'Driscoll on [email protected]