Wednesday 19 October 2011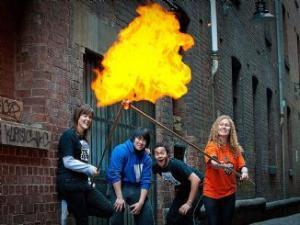 Combustion reactions are rocking school assembly halls from Hume to Heathcote this week is the Professor Science Troupe's school tour.
The university's travelling stage show presents more than 20 science demonstrations, full of big bangs and huge dollops of wonderment, designed to engage students in science and the art of discovery.
Troupe coordinator Nick Athanasiou said the show was washing away preconceptions of 'dull' science.
"This is raw science where all rules are broken," he said.
The stage show is presented free to primary and secondary schools and is a Victoria University outreach initiative run by Foundation Studies and Community Science students.
The show started seven years ago but has only been touring beyond Melbourne's western suburbs for the past three years.