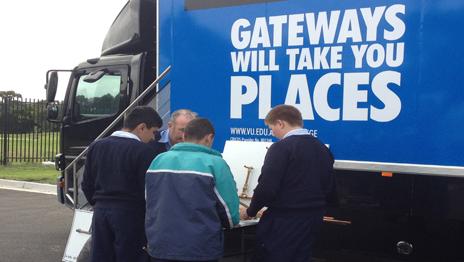 It is hard to decide a future career when you don't really understand what an occupation is! Students at Bayside P-12 College had the opportunity to sample some trades when the Victoria University Gateway bus rolled into the school for a "Trades Taster".
VU's mobile learning centre provides career counselling, practical advice and workshops on study and developing employability skills.
Word of the interactive information session spread through the school and the VU team had the opportunity to get involved with some try a trade activities in Wood (Carpentry, Joinery and Furnishing), Bricklaying, Plumbing and Signcraft.
Bayside P-12 College careers counsellor Trudi Suhren was impressed with the VU roadshow "The set up was so much more comprehensive than we had expected. It was a great opportunity for our students to engage with their future teachers in a really positive way."
The pre-apprentice program being promoted to the Bayside Students is an opportunity to gain trade experience and a head start for an apprenticeship.
VU offers trade pre-apprenticeships in:
Bricklaying
Carpentry
Electrical
Engineering - Fabrication
Engineering - Machining
Furnishing
Joinery/Shopfitting/Stairbuilding
Plumbing
Signage.
We have strong partnerships with educators, employers and the community.
"One of the many advantages VU has as a training provider is our resources. We have a teaching staff with extensive industry experience on hand to help our students" says Daniel Bonnici of VU's School of Construction Industries.
"This mobile vehicle is amazing and gives future students a chance to experience the practical side of trades."
The Mobile Gateways Vehicle (MGV) travels with skilled career advisers on board to provide information, advice and assistance with study and career options. The MGV is able to comfortably accommodate the delivery of small classes and workshops. It carries laptops, with wireless broadband Internet access, a large LCD screen for DVD or PowerPoint presentations and is fully air-conditioned. The Gateways vehicle can be deployed almost anywhere as it can generate its own power if necessary.
Future school visits are planned for Tarneit College, Manor Lakes and Essendon Keilor College.
Want the team to visit your school?
Contact Daniel Bonnici Phone: 9919 8429 Email: [email protected]
For any enquiries about training for trades please call us on Phone: 9919 8403