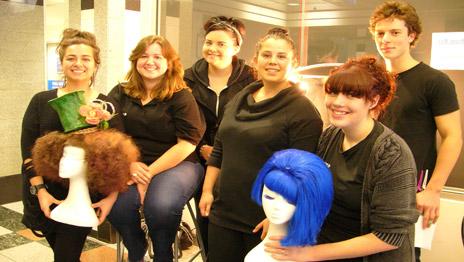 VU's School of Service Industries students had the opportunity to share their talents with a day in the Australia's Got Talent (AGT) make-up rooms.
Students worked alongside the AGT professional team to manage the hair and makeup for 100 contestants, dancers and talent. Working under pressure complete the hair and makeup briefs they were given.

The students are preparing for a future career as a make-up artist in the entertainment industry with a Diploma of Specialist Make-Up. VU's Diploma course equips students with the range of specialist skills required for a future as a photographic, theatre, period, special effects, television, film and fashion make-up artist.

Vanessa Belle, makeup supervisor AGT had high praise for the students' work, "It is an acknowledgement of the highly professional training they are receiving from industry professionals. I always know I am going to be working with students who are not only trained to the highest standards, but who are also industry prepared"

"We are very proud of our students." Phillip Crisp, head of Personal School of Service Industries says "Freemantle Media is a huge Production Company, even the Executive Producer gave glowing feedback of our performance. These industry opportunities are a great learning and potential employment"
Our team of professional, highly qualified educators are committed to providing you with the skills you need for a career in this industry. The School of Service Industries offers courses in a variety of personal services occupations including hairdressing, salon management, make-up, fashion modeling, and beauty therapy.
VU will be offering mid-year enrolment for the Diploma of Specialist Make-Up in 2012. Information sessions are being held to give future students the opportunity to meet with our teachers to discuss the course.