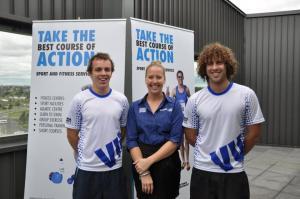 Victoria University's (VU) community events program, VUNITE, was formally launched on 13 April 2011.
VU Sport General Manager James Nightingale said that after years of sporadic activity and ad-hoc participation, he was excited that community events at VU had now come of age.
James acknowledged the financial assistance provided by VU Alumni Relations that was integral in establishing the program. He also acknowledged the continued dedication of VU Sport staff (Sport and Health Section), in particular James Moloney and Richard Quail, former students as staff members who are now working directly on the program under the guidance of Community Engagement Coordinator, Jessica Harrington and Sport Services Manager, Scott Cashmere.
VUNITE events allow students, staff, alumni and friends of VU to get involved as either participants or volunteers in large-scale events that promote healthy, active lifestyles and charitable causes.
Events cater for a range of abilities and fitness levels with category choices designed to suit individual fitness and experience levels.
A preparatory program is also being developed to including running, walking and cycling groups that encourage participants to join group training sessions aimed at improving fitness levels and allowing team members to get to know one another prior to events.
Many of the events have an official charity or positive health message to promote. So the programalsooffers a vehicle for the wider VU community to come together in raising awareness of these important social issues.
2011 Events Calendar
2011 Fundraising Events