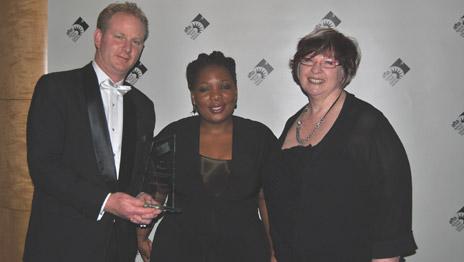 Victoria University has been named as Australia's Best Registered Travel Industry Training Institution at the 2012 Australian Federation of Travel Agents (AFTA) National Travel Industry Awards at a Gala Dinner held at The Westin, Sydney.
The black tie event celebrated the positive contributions being made in Australia's vibrant tourism industry. The national award for Best Registered Travel Industry Training Institution was contested by 100 education institutions across the country. The independent assessment process reviewed the quality of training delivery as well as examining the industry feedback.
Rick H Myatt, Director AFTA education and training, acknowledges the importance VU plays in the sector. "Through our engagement with Victoria University, particularly with teacher George Vajda, AFTA Education and Training is convinced, not only of your consistently high quality of delivery and your effective student care, but also of the relevance to the travel industry workforce development requirements".
In presenting VU with the award for Best Registered Travel Industry Training Institution Lalie Ngozi, General Manager Australasia, South African Tourism said, "Victoria University is certainly well deserved in being awarded the winner in this category for 2012, as it is their work that continues to set the benchmark for the industry and we congratulate them on their success."
Phillip Crisp, Head of School, accepted the award on behalf of the staff of VU's School of Service Industries. "We particularly thank the team of trainers at VU. It's their passion which makes our students extremely well received on the industry".
Coralie Morrissey, Executive Dean Faculty of Technical and Trades Innovation reiterated the importance of this achievement. "Victoria University is making a valuable contribution to the Industry. While some of our courses are being restructured as a result of the disappointing funding cuts by the Victorian Government, you can be assured that we will continue to provide high quality, relevant training".
AFTA is the peak body for Australia's travel agents. The annual awards event congratulates achievements in the retail travel business.
VU's School of Service Industries Certificate III in Tourism is delivered at the Werribee Campus. Students are trained in a range tourism disciplines from sales to operational procedures and the delivery of products. Our course provides the practical experience and formal education you need to enter the dynamic Tourism and Events industry.