Thursday 17 December 2015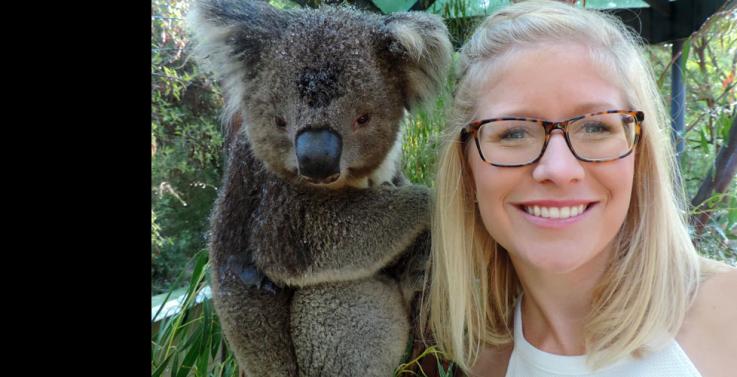 Carla Phillips has a job most people envy – attracting tourists to Victoria's three zoos.
Now the Victoria University tourism graduate has been recognised for her passion and talent with a prestigious award for excellence from the Australian Tourism Export Council (ATEC).
"I am absolutely honoured," she said. "I have some amazing industry mentors including my peers at Zoos Victoria, as well as other industry colleagues who have helped me succeed."
The foundation for Carla's current role as Zoos Victoria Tourism Manager – in charge of attracting interstate and international visitors to Melbourne Zoo, Healesville Sanctuary and Werribee Open Range Zoo – was built several years ago while she was doing her Bachelor of Business (Tourism Management) at VU.
As part of VU's industry-based learning program, the adventurous young woman worked in London at the Britannia International Hotel and as a Top Deck tour guide.
"That part of the VU degree played a huge role in my career because once I completed my degree I already had international experience which helped me get a foot in the door in the Melbourne tourism industry," she said.
From London, she worked for Australian Pacific Touring and Tourism Victoria, discovering her passion for nature-based tourism while promoting some of the state's most beautiful destinations including Great Ocean Road, Phillip Island and Gippsland.
Carla, a resident of Kew, says the tourism profession is well known for its use of mentors to pass along knowledge and skills, something she continues as a mentor herself.
As chair of the national Young ATEC committee, Carla works with energetic young tourism leaders to provide education, networking and support for those wanting a tourism career.
Carla also gives back to Victoria University as a graduate mentee for current VU tourism students in a group organised by VU adjunct professor Dianne Smith (and chief executive at Victorian Tourism Industry Council, VITC). She also lets the University know about any suitable positions going at Zoos Victoria for students wanting a taste of what she does.
Carla received the Len Taylor Young ATEC (Australian Tourism Export Council) Award for Excellence in early December.