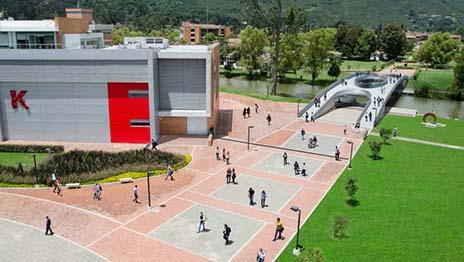 Two of Australia's leaders in doctoral research training have travelled to Colombia to share strategies with doctoral students and their supervisors about how to structure their work in the global knowledge economy.

Professor Helen Borland, Director of the Graduate Research Centre and Dean of Graduate Research Studies at Victoria University, and Professor Ron Adams, the Centre's Academic Program Coordinator, each facilitated six sessions of the program Putting Innovative Doctoral Training into Practice for a consortium of five Colombian universities hosted by La Sabana University, Bogota, in the last week of October.

Victoria University had been approached by the Victorian Government to showcase best practice Victorian approaches to doctoral training and supervisor development. "We all face similar challenges in training doctoral candidates, and the program provided a chance to share strategies and establish a framework for continuing collaboration," Professor Borland says.

Topics included ethical research practice, including intellectual property rights; equipping supervisors to supervise well; developing transferable skills, such as writing skills; quality assurance; and networking and collaborating beyond the university, including industry-linked projects.

The program also discussed the need to gain an international perspective. "The knowledge economy in which we all research and work is a global knowledge economy, and the ability to contribute to this is increasingly what determines what counts as research excellence – and who will be given academic positions and awarded research grants," Professor Borland says.

"The foundations can be laid during candidature, and one session of the program considered opportunities provided for international networking and mobility."
The student program covered issues such as understanding the institutional setting; taking control of their thesis project; demystifying key research processes; why an ethical underpinning is fundamental; and "engaged" research" – creating new knowledge to deal with real world problems.

It also covered "Taking responsibility for your own doctoral outcomes". Says Professor Borland: "Researching and writing a PhD thesis should be a rewarding intellectual achievement, but this is not always the experience. During the program we provided candidates with a range of strategies for exercising greater personal control over their own researcher development."

The program received outstanding evaluations from all participants, staff and students. As María Carolina Serrano Ramírez, La Sabana's Manager of International Cooperation and Visibility, remarked, "The workshop was a complete success!