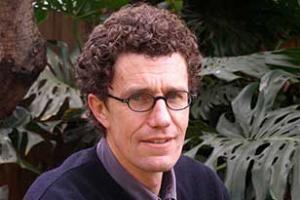 A Victoria University sociology teacher has been shortlisted for a prestigious literary award for his book about his own former sociology lecturer.
Dr Roger Averill's book, Exile: The Lives and Hopes of Werner Pelz, was written about one of his teachers while Averill was a student at La Trobe University in the 1980s. The book – both memoir and biography – has been shortlisted for the NSW Premier's Literary Awards which carries with it total prize money of more than $300,000. Past winners include Peter Carey, Elizabeth Jolley, Helen Garner, Tim Winton and David Malouf.
Pelz's story, entered in the contest's prize for nonfiction, is like the best true-life adventures by being stranger than fiction. Pelz fled Nazi Germany for being Jewish, was arrested in Britain at the start of WWII for being an enemy alien, then shipped to Australia onboard the Dunera. He converted to Christianity while working as an internee farm labourer in NSW.
Returning to Britain after the war, Pelz spent decades on a spiritual quest, becoming an Anglican vicar, a BBC filmmaker and a Guardian newspaper columnist before returning to Australia to teach sociology at La Trobe. He is regarded in academic circles as an original thinker and an influential sociologist and theologian.
Dr Averill's book about his former teacher was described by the Award's judges as "an intelligent and deeply felt memoir of a friend and a friendship".
The judges said: "This book deserves notice — not to mention a wide readership — as much for the beauty, elegance and tenderness of its writing, as for the lives (Pelz's and Averill's chief among them) and ideas it explores with such discernment and love. It is a new kind of nonfiction: personable, but never merely personal; scholarly, but never merely academic. Though it wanders wide, and sometimes almost loses its way, it never loses its voice. Exile is a testimony to a good life and a beautiful friendship."
Dr Averill is also the author of Boy He Cry: An Island Odyssey, an account of his time spent living on the remote Melanesian island of Nuakata, and Keeping Faith, a novel.