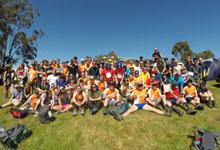 85 VU Outdoor Recreation and Outdoor Education students will compete in the 24-hour Victorian Rogaining Championships event in the Kara Kara National Park this weekend.
Rogaining (rugged outdoor group activity involving navigation and endurance) is an adventure sport that originated in Australia. Although little-known, the sport has been played since 1976. It tests navigational skills, fitness, endurance, decision-making and teamwork.
Matthew Cox, lecturer in the College of Sport and Exercise Science, said rogaining is embedded into coursework units for the students and offers a way of consolidating their theoretical understanding of topographical relationships and field preparedness through practical experience.
Conducted across 180 square kilometres of bushland north of Avoca, the rogainer teams will travel on foot, navigating by map and compass to locate checkpoints to accrue points in an allocated time.
In 2014, VU students won:
first, second and third place in the Men's Junior division
second and third places in the Women's Junior division
second and third in the Novice division.