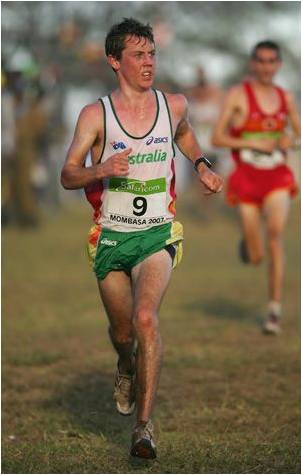 Two Victoria University students have been named to the Australian team for the World University Summer Games to be held in Belgrade, Serbia in July.
Liam Adams, 22, will represent VU in athletics, competing in the 5000-metre event, while Jarrod Gilchrist, 18, will compete on the men's water polo team.
Liam, a second-year Bachelor of Exercise Science (Human Movement) student, is a seasoned champion in long-distance and cross-country running. He was named Australia's top university male athlete, as well as VU's male athlete of the year for 2008 for his recent impressive performances.
Last April, the Moonee Ponds resident took home a silver medal representing Australia at the World University cross-country championships in France, and was also instrumental in securing a bronze medal for the cross-country men's team.
Liam went on to earn gold in the 5000m, and silver in 10,000m events representing VU at the Australian University Games in September in Melbourne. He also took first place in the 10km event at the Australian University Distance Running Championships, held as part of the Melbourne Marathon in October.
Jarrod Gilchrist, 18, a first year Bachelor of Applied Science (Physical Education) student, will compete on the Australian men's water polo team.
The Hurstbridge resident has competed at an elite level in water polo for several years. He was selected for the Australian school boys' team in 2006, and named that league's most outstanding player in 2008.
Jarrod is also working toward establishing a Victoria University water polo team for the Australian University Games to be held on the Gold Coast this September.
"We are hopeful about coming back from Belgrade with a good result in what will be a strong competition, considering Serbia is one of the power-house nations in the sport," he said.
For more information on the 2009 World University Games, check out www.ub2009.org.