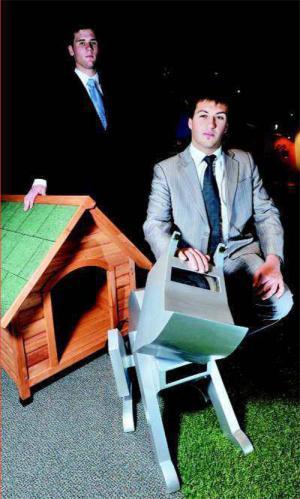 Two Victoria University students will have their design featured in an exhibition at Scienceworks Museum.
Engineering students Josh MacKay and Andrew Muscat designed and built a model watchdog as part of their second year Electrical and Electronic Engineering program.
The innovative device is shaped like a dog, and has hidden speakers and motion detectors that activate if motion is detected within five metres.
On activation, the wooden "watchdog" lets out a low growl that gradually turns into a frantic yelp.
Project co-ordinator and engineering senior lecturer, Juan Shi, said it could be used in certain places to make the public aware of restricted areas.
"The Watch Dog is an example of the University's problem-based learning, an approach that allocates real-life problems to students to help them acquire technical knowledge, as well as skills in problem solving, research and teamwork," she said.
Scienceworks Exhibition Manager, Andrew Lewis, said the museum's partnership with Victoria University was a great fit as both organisations aim to inspire people about the value of science.
"Together, both Victoria University and Scienceworks are able to present science and technology careers as an exciting, stimulating and attractive career option."
The Watchdog is part of the Amazing Backyard Adventures exhibition exploring the wonders of science in the humble backyard.
The exhibition runs at Scienceworks Museum, 2 Booker Street, Spotswood, until 24 July 2011.