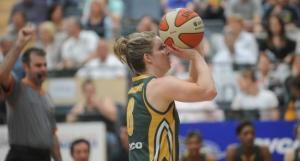 Four Victoria University students have been selected to the Australian team (Australian Uniroos) for the 2011 World University Summer Games (Universiade) held in Shenzhen, China 11-23 August.
The universiade is an event of world significance and has many similarities to Olympic and Commonwealth Games. The word "Universiade" comes from "university" and "Olympiad" and means Olympic Games for students and is second in importance only to the Olympic Games on a true multi sport international scale. The standard of competition is extremely high and features many world and Olympic standard competitors.
Victoria University student Stephanie Cumming is representing Australia in basketball, David Powell is a member of the table tennis team and Beau Lang is part of the taekwondo team while Madison Morrison is competing in water polo.
Stephanie and David are both studying a Bachelor of Education, Beau is studying a Diploma of Sports Coaching while Madison is undertaking a Bachelor of Exercise Science & Human Movement/Bachelor of Psychological Studies.
In addition, the following students have been confirmed to represent Australia at 2011 World Championships:
Renuga Veeran (Graduate Diploma Secondary Education) - badminton.
Ivo Dos Santos (Bachelor of Applied Science, Physical Education Secondary) - judo
Sara Collins (Bachelor of Education) - judo
David Webster (Bachelor of Sport and Recreation Management) "" rowing