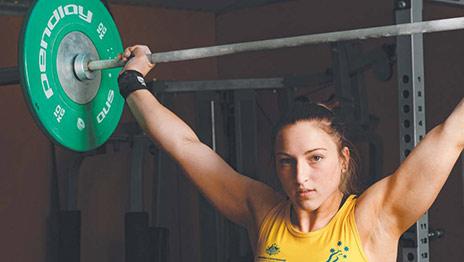 VU Student Clare Cherry won 6th place for Australia (Uniroos) at the 2014 World University Weightlifting Championships in Thailand 5-8 December.
Clare Cherry says the sport has been her saving grace. She began weightlifting two years ago, after being diagnosed with depression. "I did my first competition and never looked back," she said. "It's been my saving grace... it gave me a new direction."
The 2014 World University Championships was Clare's first national representation and major international championship. She's also aiming to compete for Australia at the Commonwealth Games on the Gold Coast in 2018.
Clare trains at a gym three days a week and at home twice a week. In her last competition she clean and jerked 100kg.
Also a keen basketball player, Clare said she never considered getting into weightlifting, but now loves the sport. She is also studying at Victoria University to become a physical education teacher.
VU has had many students compete on the international stage in 2014.
In addition to 6 current students competing at the 2014 Commonwealth games as well as representation at a number of World Championships, another student competed at a World University Championship. Jackson Harrison (Bachelor of Applied Science (Physical Education Secondary)) represented Australia (Uniroos) in the Single Skull at the 2014 World Rowing Championships (12-14 September) at the Olympic Regatta Venue of "Le PAarc des Rives de l'Aa" in Gravelines France.
Jackson, a second year student, is a 2014 VU Elite High performance Sport Scholarship holder with an impressive record. He has represented Australia twice and Victoria four times, and rates his best performance as a podium finish with a Bronze medal at the first round of the 2014 World Rowing Cup. Jackson also won a silver representing VU at the 2013 Australian University Rowing Championship in Ballarat and was awarded VU's Male Athlete of the Year at the 2014 Victoria University Sport Awards.