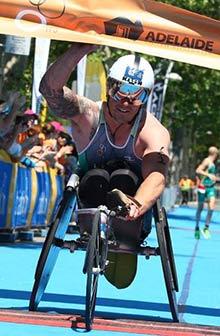 Two of VU's elite student athletes have become world champions, less than a month after winning gold for Victoria University at the 2015 Australian University Games (AUG).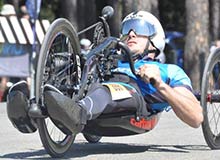 Alex Welsh, a first-year Bachelor of Education student, is a road para-cyclist who competes in the H3 classification on a hand cycle. Alex is one of VU's 2015 sport scholars (emerging elite) and represented VU in the time trial event at the 2015 AUG cycling. It is the first time a para-cyclist has competed in the event.
Alex is the 2015 national road race and time trial champion in his class. He recorded a time faster than a number of able-bodied competitors at the AUG and won gold in his race classification. He was also awarded the honour of green and gold merit selection for outstanding performance at an AUG.
Alex followed this achievement by becoming the new Paraduathlon World Champion (PT1), winning gold at the 2015 World Duathlon Championships Adelaide, held on 17-18 October. Alex completed the 5km wheelchair run, 20km handbike cycle, and further 3km wheelchair run in 59 minutes and 19 seconds.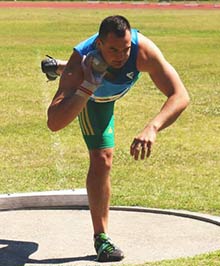 VU was also extremely proud to have Todd Hodgetts OAM win gold in shot put at the AUG. Todd is a first-year Diploma in Sport Development student and VU's 2015 high-performance elite sport scholar. Todd is a gold medal Paralympian and a world record holder in shot put (F20) from the London Paralympics.
Todd was part of the Australian Flame team of 50 para-athletes at the recent 2015 IPC Athletics World Championships in Doha, Qatar on 21-31 October. He threw 15.83 metres, a new IPC record, to win gold for Australia. This places him in a strong position to defend his Paralympic title in Rio next year. Todd set a world record of 16.29m for his event in 2012, won a bronze medal at the world championships in Lyon in 2013 and tops this year's IPC rankings with a season's best of 16.28m.
Alex and Todd's outstanding sporting performances representing their university and Australia on the world stage will be formally recognised and celebrated at the 2015 Victoria University Sport Awards, which will be held at the City Convention Centre, Victoria University City Flinders Campus on Thursday 12 November.