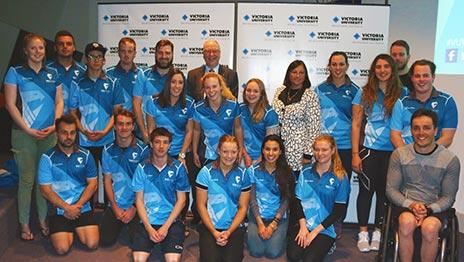 Victoria University will be represented by 190 students and officials in the 2015 Australian University Games (AUG) being held Saturday 26 September to Friday 2 October in Gold Coast QLD.
The VU Vultures will be proudly represented in sports of:
Athletics
Basketball Men
Basketball Women
Beach Volleyball Women
Cheer
Cycling
Football
Futsal Men
Futsal Women
Golf
Handball Mixed
Hockey Men
Hockey Women
Netball Mixed
Netball Women
Swimming
Taekwondo
Tennis Men
Volleyball Men.
The Australian University Games will see over 8,000 students from 42 universities compete. The event has grown to be Australia's largest annual multi-sport event renowned for providing a friendly but competitive environment for Australian university athletes and is the flagship event on the national university sporting calendar.
Three of Victoria University's Sport Scholars will also be competing as part of our AUG team next week including high performance elite sport scholar Todd Hodgetts OAM. Todd is Gold medal Paralympian and world record holder in Shot Put from the London Paralympics and has also been confirmed in the Australian Flame team of 50 para-athletes to lead the charge at the 2015 IPC Athletics World Championships in Doha, Qatar next month.
VU will also be represented by paracyclist Alex Welsh. Alex a hand cyclist (H3 athlete) will compete in the time trial event as part of the AUG cycling. It is the first time a Paracyclist has taken part in the event. Alex is currently the 2015 Australian road race and time trial champion in his class and is also preparing to compete at the World Duathlon Championships which includes a wheelchair race for the run and hand-cycle bike for the cycling component of the event.
Minseung Choi will also be competing at his 5th AUG for VU. Minseung a VU full blue has represented VU in black belt sparring and Poomsae winning 10 medals, including 5 gold!
Students and teams who excel at this year's AUG will also be in the running to receive a Victoria University Sport Award with nominations currently open.